Artist Stephanie Hans Joins The Art Of Level 7
Marvel Television is proud to announce acclaimed artist Stephanie Hans (Journey Into Mystery, Young Avengers) as the newest recruit for Marvel's Agents of S.H.I.E.L.D.: The Art of Level 7, a new initiative uniting top artists from around the world to celebrate the final six episodes of the series' inaugural season(airing Tuesdays, 8|7c on the ABC Television Network).
Maria Hill (guest-star Cobie Smulders) makes her return to Marvels Agents of S.H.I.E.L.D. as Coulson finds his team divided and at their most vulnerable, but is she a friend…or foe? Meanwhile, Coulson must contend with the forces of Col. Glenn Talbot (guest-star Adrian Pasdar) and the United States military, as Ward and Skye work together on a covert mission to decrypt a hard drive containing S.H.I.E.L.D.'s biggest secrets. But just when Skye didn't think things could get worse…Deathlok makes his (literally) heart-stopping return!
"Nothing Personal", the twentieth episode of the series, premieres on Tuesday, April 29th, at 8|7c on the ABC network followed by brand new episodes each week until the suspenseful season finale.
"The relationship between Grant Ward and Skye takes center stage as the two of them must confront some uncomfortable – and life-threatening – truths," said Jeph Loeb, Head of Marvel TV. "Stephanie Hans was the perfect choice to bring the tortured relationship between Skye and Ward to life, with the threat of Deathlok figuring so prominently into this new episode of Marvel's Agents of S.H.I.E.L.D."
Each poster released in this series will be available as limited edition high quality prints at http://www.marvelstore.com/ArtOfLevel7 with "Nothing Personal" scheduled to go on sale Friday, April 25th at 1:00am PST. These individually numbered prints are strictly limited to 100 copies and once they're sold out, they won't be available again from Marvel.
"First, I have to say I am incredibly proud that Marvel has given me the chance to collaborate on the Marvel's Agents of S.H.I.E.L.D. series," said Stephanie Hans. "I have been a huge fan of Joss Whedon ever since I watched my first Buffy the Vampire Slayer episode and I nearly fainted when I learned one of my paintings would be associated with his work. For this illustration, I have been looking for a kind of Klimt-esque mood. I wanted the picture to talk about the inner torment Skye is going through. You can see it in her eyes that even though she's holding Agent Ward with all of her strength, she is not really with him at the same time: she's fighting with herself."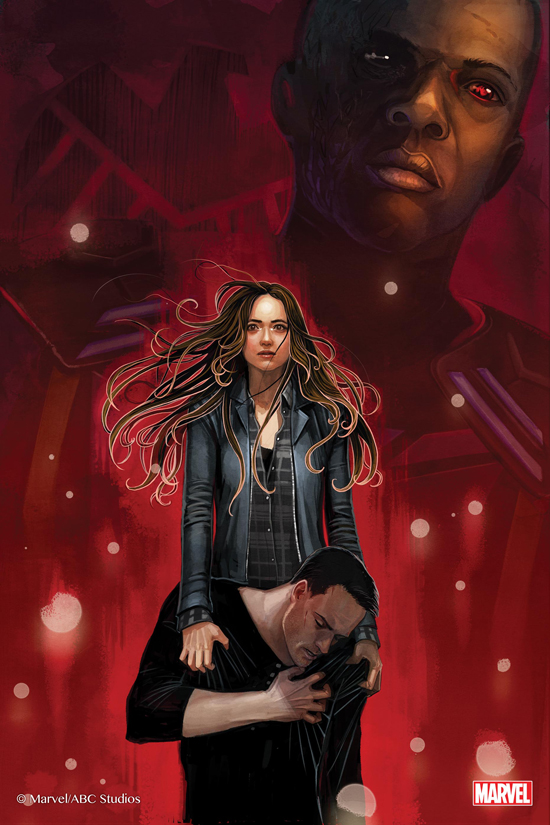 I want a coffee table book of these prints... and a coffee table.