The Dark Knight Meets Harvey Dent...
posted 2/16/07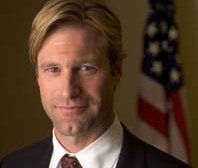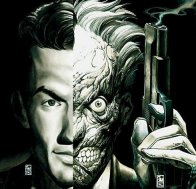 Are we seeing double?

Though it might have been more appropriate to set him up to be the villain in the second Batman movie instead of the third, Harvey Dent aka Two-Face will be appearing in The Dark Knight. The Hollywood Reporter confirmed the information this morning, though fans had been spreading rumors about it for months.

More importantly, the confirmation included just who would be Dent, a character previously played by actors as diverse as Richard Moll, Billy Dee Williams and Tommy Lee Jones. Despite rumors that Liev Schreiber would become the crusading Gotham District Attorney (and you thought it was Katie Holmes), the man who signed on the dotted line was the charmingly roguish Aaron Eckhart.

Slated for release in July, 2008, The Dark Knight will once again feature Christian Bale as Bruce Wayne, battling against The Joker (Heath Ledger). But of course, Batman has an ally in Dent, a no-nonsense crusader that in some comics stories worked in tandem with Lieutenant James Gordon (Gary Oldman) to make sure that the criminals Batman catches get locked away for good.

In the comics, Dent's zeal takes him too far, and while arguing a trial a defendant throws a vial of acid in Dent's face, horribly scarring him on one side. Upon recovering, he assumes the criminal identity Two-Face, committing crimes all based on a theme of duality, while determining to commit good or evil based on the flip of a coin. No one knows yet if the script for The Dark Knight, written by Director Christopher Nolan's brother Jonathan Nolan from a plot by Nolan and David S. Goyer, will include the transformation.

At any rate, it's a safe bet that they are lining the character up to be the villain in the third film, a gamble that caused Williams to take the role back in the Tim Burton film Batman. When that vision of Batman got around to using Two-Face (also in the third film -- Two-Face should sue), Williams was replaced by Jones, with an origin told (lamely) in flashback.

Another great casting choice, Eckhart made waves this year with Thank You For Smoking, but if you really want to see an actor make an incredible first impression, check out In the Company of Men.