Take Me Out To The Ball Game...
WizKids and Topps Announce Their First Joint Product...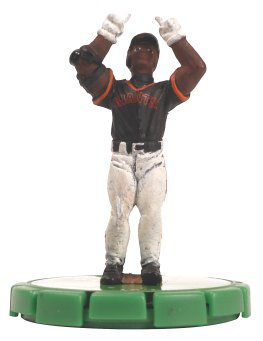 Only two inches tall, but
still on his way to a record.
What marks the difference between a fanboy and a sports fan? Both possess fantastic memories that track ridiculous amounts of statistics and minutia about their respective subjects, yet often can't remember their wedding anniversaries. Both prove very, very dedicated to the objects of their fascination. And yet they live in two separate worlds, only one really socially accepted.
Over the years various companies have tried to bring the two together. Some thought that collectible card games would be a natural crossover, because of the sports card connection, and yet attempts have been met with general consumer disinterest. Perhaps sports fans wouldn't sneer at fanboys if they had action figures of their own…but then, as anyone who has ever opened a McFarlane figure will attest, manly men aren't so much buying action figures as they are statues with potential articulation. Potential until you try to move one, which promptly snaps. So, no, the two worlds don't really meet there.
And yet, recently the leader in sports collectible cards, Topps, may have taken over the answer. Today, the veteran company announced a product in conjunction with their subsidiary that may finally get the jocks shoulder to shoulder with the geeks.
At a press conference introduced by MSNBC's Keith Olbermann, WizKids and Topps presented the first game of their new dual regime: Sports Clix.
To be more specific, Major League Baseball Sports Clix, which is scheduled for release to coincide with 2004 Spring Training.
Not a wild stretch of the imagination at all, considering the strengths of the two companies. But it's one that could open new doors in both collecting and game-playing. Like previous dial-based games from WizKids, one starter set is all you need to face down an opponent. Suggested to retail for $19.99, a set comes complete with nine figures for a full team, a stadium playmat, specially formulated dice, and of course, the rules. Consumers will be able to choose from two different line-ups. Booster sets come in two-packs at $4.99 and 3-packs at $6.99, and will contain random assortments.
Players will assume the role of team manager, determining line-ups and battng orders while hoping not to wear their team down. As each figure is of an actual player from the previous baseball season (they plan to update annually), you can choose a line-up with various strengths and weaknesses. However, Firelord has been banned from league play, a disappointment to Cubs fans that were counting on him for the 2004 season.
According to the company, the game should be accessible to a wide age-range. Younger players should be able to compete at what they call the "spring training" level, though the complexity of the game increases in skill and strategy all the way up to the "World Series." From HeroClix experience, I'm going to go with that still seeing younger players triumph.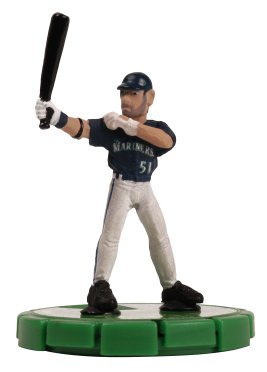 WizKids sculptors have made every effort to capture players' signature poses...

Among the more intriguing features is the adjustability of the playmat, with a movable back wall to simulate your favorite stadium. Want to play with The Big Green Monster? You can. (And we've pretty much just exhausted the stadium nicknames I know.)

WizKids and Topps promise that there will be tournament play, just as with HeroClix, MageKnight and MechWarrior. However, they haven't quite worked out how that's going to work at this point. Give them time.

They have also not yet settled on a final number of figures for the initial release, but assured us this morning that better players (such as those with psychic attack, hypersonic speed and/or invulnerability*) will be harder to find. Alex Rodriguez, in particular, was singled out at the press conference as one that might be considered a "unique."

Already retailers are salivating. And the companies plan for more. Bearing in mind that this all depends on the success of the initial line, know that they hope to be able to delve into baseball history and release Hall of Fame players. Someday Babe Ruth could play alongside Willie Mays, but Pete Rose won't be allowed to touch the dice.

A company executive also assured us that there will be no fan figures to interfere with play. So maybe the Cubs won't need Firelord after all.

Of course, Topps and WizKids also hope to capture the spirit of other professional sports, contingent again on the success of this initial line. The Shadowrun format might transform nicely into boxing. No, no, WizKids, you don't owe me anything for that.

So get ready, guys. Come Spring, an odd phrase might be heard in fanboy homes across the land: "Play ball!"

*By the way, I'm perfectly aware that baseball players don't have psychic attack or invulnerability.