Disney Fans -- How About This For Christmas?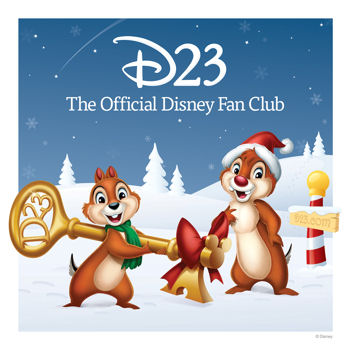 Thanks to Disney's purchase of Marvel Comics a few years ago, our fandoms have collided. Actually, walk around Disneyland sometime and you'll find that Fanboy Planet readers fit right in -- there's a strong melange of Doctor Who fans (I've had interesting Whovian conversations in New Orleans Square), Star Wars fans (of course), superhero fans, musical fans and of course, Disney fans.
Heck, even Horace Horsecollar wears a Captain America t-shirt from Target in the new short, "Get A Horse."
So one thing I neglected to put in the gift guide podcast this year, because it really had not occurred to me, was this: membership in the official Disney Fan Club.
Some people aren't fan club types, that's true. And to date, I've only joined one myself, and that was to become a Blue Blaze Irregular. Nope, I wasn't even part of the Merry Marvel Marching Society nor F.O.O.M. (Friends Of Ol' Marvel).
But Disney keeps tempting me. So I'll be honest: I'm going along with the recommendation because yes, it's on my own Christmas list. This isn't a paid endorsement -- this is something I think is cool and I'm looking into myself.
So here's what they told me:
To help you save during the holiday season, D23 Free Member discounts include the ABC TV Store, Brookstone, SuperShuttle, and a special offer on Disney Magazines.
But perhaps more exciting for many Disney fans, Membership gives guests exclusive access to special in-depth content on D23.com. The site is updated daily with news about Disney theme parks, live-action features, animated films, television shows and celebrities. There are behind-the-scenes exclusives from the Walt Disney Archives, including never-before-released photos taken personally by Walt Disney.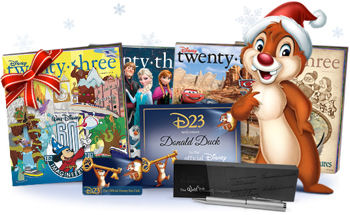 For kids of the '90s there's a celebration of the Disney Afternoon. And for fans of Disney TV shows today, there are exclusive interviews with stars of Once Upon A Time and Phineas and Ferb! The site also features the complete Disney A-Z, with more than 7,000 entries from the Disney encyclopedia.
In addition to a free membership, D23 offers two levels of paid membership. Why not unlock the magic of Disney this year for the fan in your life—even if that fan is you? D23 is the world's only Official Disney Fan Club, and a Gold ($74.99) or Silver ($34.99) membership is a supercalifragilisticexpialidocious gift idea for any Disney fanatic!
Paid Membership highlights include everything above plus:
Disney twenty-three Magazine – This glossy, oversized, quarterly publication is sent exclusively to only D23 Gold Memberships, and each issue includes in-depth features and vibrant imagery.
Special Events all over the U.S. – D23 Members can take part in amazing tours of the Walt Disney Studios and Archives; signature events at Walt Disney World and Disneyland Resort; special screenings, such as the recent Hocus Pocus 20th Anniversary reunion, and Member Mixers at Disney Stores across the country. Members also receive a special discount to Disney's D23 Fanniversary 2014 event, which will visit cities in the coming year. These unique experiences are created specifically for members of D23: The Official Disney Fan Club.
More discounts! – D23 Gold and Silver Members can save more than the membership costs on just one purchase! Paid member discounts Disney Store, DisneyStore.com, Disney shows on Broadway, House of Blues in Orlando & Anaheim, Mandara Spas across the country, The Walt Disney Family Museum, local hotels and restaurants near Disneyland and Walt Disney World Resorts, and much, much more.
Annual Member Gift – Each new and renewing D23 Member receives a special collectible gift from The Walt Disney Archives Collection.
Fans can give themselves, their family or friends the gift of Disney by visiting www.D23.com.