City Lights Theater Company Presenting BUILD
A Sci Fi Gaming Drama Utilizing New Technology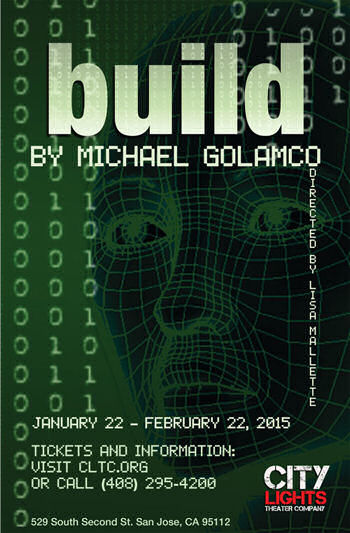 Editor's Note: Playwright Michael Golamco presented the world premiere of his play at the Geffen Playhouse two years ago in Westwood, California. Set in the Silicon Valley and taking place in one of my own beloved Eichlers (at least that's what the set designer went for), the play centers on a reclusive game designer who harbors an incredible secret. His former business partner tries to lure him back to create a sequel to their runaway hit MMORPG. But what the designer has is much, much more than that -- think Minecraft on acid. It might not just be a literal game-changer, but a world-changer.
San Jose's City Lights Theater Company is now producing Golamco's play, and it's only fitting that a Silicon Valley theater get it. It opens January 22, and we intend to talk with Golamco, now a writer for NBC's GRIMM, in the next week. In the meantime, here's a little piece from Rebecca Wallace of City Lights about the technological advances this 100-seat theater will be making to bring his story to life on stage...
One of the characters in Build will have some of her most compelling moments in the wings. First the audience will meet Kip (George Psarras) and Will (Max Tachis), video game developers struggling to create a follow-up to their viral game. And then there's the curiously compelling female A.I. (Morgan Voellger) who seems to appear out of nowhere.
Sometimes Morgan won't actually be there. On stage, that is. Thanks to high-tech design by lighting and video designer Nick Kumamoto, Morgan's face may be seen flying from one computer monitor to another, or lighting up a panel of the set ... all while the actor is performing from backstage.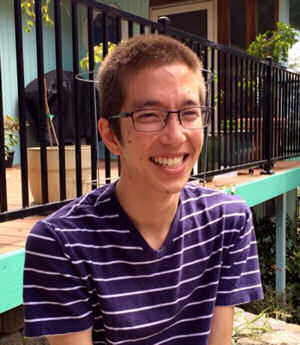 A grant from the Knight Foundation has allowed City Lights to purchase a powerful new computer and three projectors, taking creativity to a new level. "This is the most ambitious video show I've ever done," Nick said. "This is totally unprecedented for us."
While Morgan acts backstage, Nick can direct live video of her to screens onstage, or use the projectors to display her anywhere on the set. Meanwhile, he can use effects to make her look pixelated, turn colors, grow larger and smaller. For one scene where the A.I. manipulates code, Nick is playing with having pieces of code fly around her face.
Nick has designed projections many times and has done full-fledged lighting designs for more than 50 shows since he began his lighting career in high school in 2009, so this is certainly not all new to him. However, the new technology makes everything more powerful and more efficient. He's already thinking about ways to use the equipment in future shows.
"Making things work is so much simpler," he said. "And when it's simpler you can spend more time being creative."
All the while, Nick is careful not to let technology get in the way of the story. "We go to the theater to see live people doing live things," he said.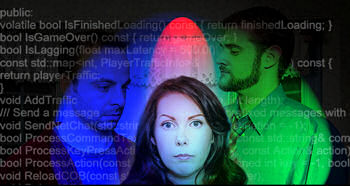 We don't want to give away Nick's designs by showing photos of them yet. Come appreciate them at Build, which runs Jan. 22-Feb. 22. We start with Pay What You Can Night at 8 p.m. Thursday, Jan. 22, and then offer our $17 preview the next night at 8. There are just a few tickets left for opening night: 8 p.m. Jan. 24.
During Build, we're partnering with The Tech Museum of Innovation, which is creating a tech-themed display for our back wall.
Call 408-295-4200 or go to our website to buy tickets. Then share your thoughts with us via Twitter, Facebook, and Instagram. Our hashtag is #CLTheater.
Feedback for Fanboy Planet? Tweet us or join us on Facebook!