The Cons Are On!
a brief preview of San Jose in May...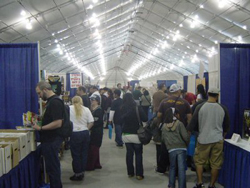 San Jose Convention Center's South Hall --
the big blue tent!

It's May and if you're a nerd, geek or fanboy that can only mean one thing to you: Con season is on! That's right, fan convention season will sweep the spring and eventually crash into summer with a lot of comic books, movie trailers, costume contests and swag. Conventions are going on all over the country, but a few choice conventions are going to hit the South Bay Area in May, and if you're in the proximity to attend, here's a preview of three of the bigger cons to touch down in our humble neighborhood: Super-Con, Fanimecon and Baycon.

The first convention to hit the scene and sure to start off the month with a bang is Super-Con in San Jose, CA. Super-Con has been an ongoing convention for the last few years, and until last year was happening in Oakland. In 2007, Super-Con moved to the San Jose Convention Center for what turned out to be a nice, more intimate con, where comic fans could actually get to immerse themselves in the comic biz and spend time meeting and greeting the industry professionals. Last year's guests included System of a Down drummer and comic aficionado John Dolmayan and Legendary Go-Go Guitarist Jane Weidlin among a great selection of comic writers and artists, including DC Comics writer (now editor-in-chief at Boom! Studios) Mark Waid.

This year's con is back in the San Jose location and it's poised to be bigger than ever. Comic industry guests this year include, artists Greg Horn (Cover Artist – Elektra, Ms. Marvel, She Hulk), Adam Hughes (Artist – Wonder Woman, Catwoman, Tomb Raider), and Frank Cho (Avengers, Liberty Meadows) and that's just to name a few.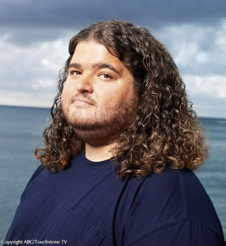 He's not lost...he's in San Jose!

The stars are also back and this year you can't find a bigger star than LOST's Jorge Garcia (Hugo "Hurley" Reyes). Garcia will be making a rare convention appearance and it will be sure to make any LOST fan crazy with excitement.

Other cool celebrity appearances include the entire cast of Mystery Science Theatre 3000 reuniting for a panel. Star Trek: The Next Generation's Wil Wheaton will be there as well, and our good gal pal Jane Wiedlin will return to mix and mingle amongst the fans.

Super-Con will be expanding on their programming this year by having a cosplay contest, an art auction, movie screenings, more panels by industry professionals and much, much more.

And let's not forget, that if all goes according to plan, yours truly of Moron Life will be there manning an artist's table and handing out free swag. Derek will be wandering around with a glazed expression, a digital recorder and maybe some swag from Catastrophic Comics. Ric will have been taken hostage by pirates. So be sure to keep an eye out for us and come by to meet the gang.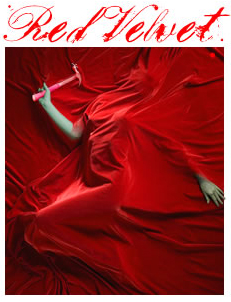 This horror movie starring Henry Thomas
will screen at 7 p.m. on Saturday night!

Super-Con hits the San Jose Convention Center May 17th and 18th. For more information and a complete list of Super Con programming, be sure to check out: http://www.super-con.com.

After Super-Con hits, fans of Sci-Fi and Anime have one big weekend ahead of them. Come Memorial Day Weekend (May 23-26), a couple of big fan conventions come to town.

Downtown San Jose hosts a festival for all things Anime with Fanimecon 2008. Fanime is Northern California's largest Japanese Anime convention and is sure to be a crowd pleaser. Many fans attend anime conventions for the events and FanimeCon's events have always been a crowd favorite with such annual staples as the dealers' room, numerous Guests of Honor, cosplay events and anime screenings, as well as new and inventive events such as the Game Show, the Black and White Ball, and the Maid Cafe. There's also an Artists' Alley and an Art Gallery as well as arcade gaming, a music fest and a dance to boot.

Some of the guests touted for this year's Fanimecon are artist Maika Netsu, voice actors Hidenobu Kiuchi, Jonathan Osborne and Dan Southworth, actors Rueben Langdon and Richard Waugh , industry pro Carl Horn, and author Ric Meyers.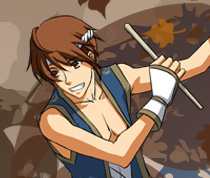 Yes. Everyone will look like this.

Fanimecon has grown into a sizeable event and keeps getting bigger every year, and if you're an Anime'niac be sure to check out the great merchandise, the fantastic contests, and the fun convention this Memorial Day.

For more information check out http://www.fanime.com.

Also competing for your attention as well as your cash Memorial Day weekend is the Sci-Fi fan convention Baycon. Hailed this year as, "Adventures in Space – A Pirates Tale," Baycon plans to take over the Hyatt Regency in Santa Clara, CA, May 23-26.

Baycon is more of convention for fans to meet and greet each other and join like minds. However, like other conventions there is always plenty to see and do, from a quaint dealers' room, to independent films, podcasts and panels from various Sci-Fi professionals.

Baycon's guests this year include writer Tim Powers, artist Todd Lockwood, fan Patty Wells, and author Scott Sigler. Along with the great guests and panels (several featuring Fanboy Planeteers Derek McCaw, Chris Garcia and Jason Shachat), Baycon is also having a "Hoist Your Own Jolly Roger Contest," and the annual costume contest as well.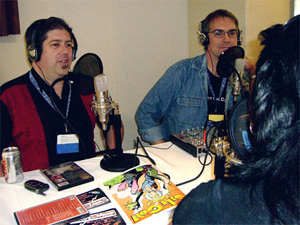 The devilishly handsome and Ric.

We'll be doing the podcast live as a panel on Sunday at 2:30 p.m. Stop by and join the fun! You can get the whole programming schedule here, but you might also want to be at the costume contest, because Derek and Garcia will be part of the entertainment, playing "Wait, Wait, Don't Tell Me."

Baycon also has a special feature every year called BCTV, which is piped through the Hotel's TV signal and showcases such things as fan films, old Sci-Fi classics, and independent films. Oh yeah, and be sure to watch out for some Moron Life episodes mixed in there too.

Baycon is a charming and fun event for fans to just hang out and socialize with other fans like them. For more information on Bay-Con please visit them at: http://www.baycon.org.

If we make it through the month in one piece, we'll only have a little time left to recover for the granddaddy of them all, Comic Con 2008. It's a good time to be a fan. See you on the convention floor.