Come To The World Premiere Of C.O.B.A.L.T. At 7 Stars!
Enter To Win an Action Figure Display Case!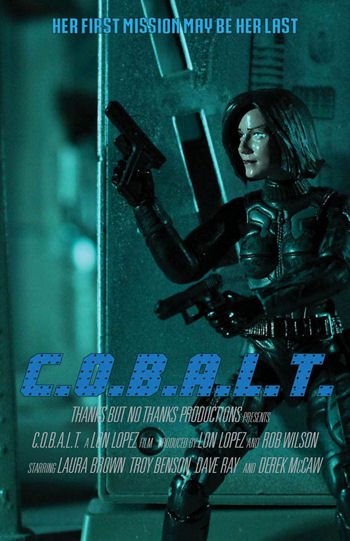 Want to know what's been going on in the world of Action Figure Action Movie since it had "The Setback"? At last, Lon Lopez and Rob Wilson have finished their epic second chapter in the their tale of international intrigue, corporate corruption, and love of action figures.
On Saturday December 20, Lon and Rob will be unveiling C.O.B.A.L.T. at a special viewing party in San Jose at 5:30 p.m. so everybody can come! Not only that...
C.O.B.A.L.T. premieres at one of Fanboy Planet's favorite places -- the 7 Stars Bar & Grill at 398 S. Bascom Avenue in San Jose, the only place we know of where you can dine and drink surrounded by Star Wars action figures and other memorabilia. It's all ages before 8 p.m., so 5:30 should be no problem.
Lon will show the award-winning The Setback and then premiere C.O.B.A.L.T. While you're there, you can get one of Paul Cunha's fantastic linguica corndogs to munch.
BUT WAIT -- THERE'S MORE!
Lon's production company, Thanks But No Thanks Productions, has arranged with Blazon Displays for a raffle to win one of their beautiful display cases.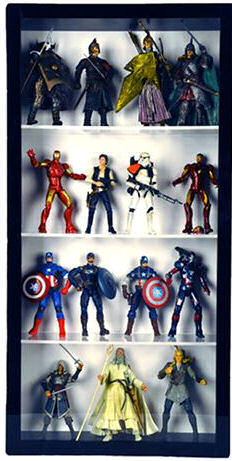 From Blazon Displays:

Blazon Displays is proud to support the premiere of C.O.B.A.L.T. and Thanks but No Thanks Productions by giving away one of it's awesome new Action Figure Display cases!

This great looking acrylic display case protects your treasured collectibles, saves space, and presents them in a beautiful and artful way.

The case can hold up to thirty six 3 3/4" scale figures or up to sixteen 6" figures by adjusting it's clear acrylic shelves.
Say good-bye to dusty boxes and dark storage rooms and be proud of your toys!

Visit www.blazondisplays.com or http://www.facebook.com/blazondisplays for more information.

Lon let us know that this case is valued around $150 and makes an excellent way to display your action figures.

STILL MORE! Lon just sent us a teaser for C.O.B.A.L.T. -- just a little taste, and yes, that is podcast announcer Nate Costa at the beginning.

See you Saturday!

>