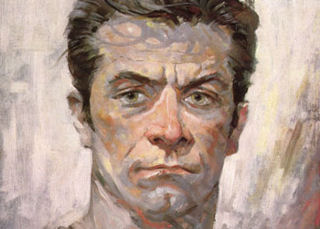 THE fantasy artist of the 20th Century.
Frank Frazetta
1928-2010
There are a few names in the history of science fiction art that stand out. Hannes Bok, Frank R. Paul, Kelly Freas and Ed Emsh, four legends of the first 30 years of science fiction illustration, may be the first that come to mind to a hardcore fan, but the one whose work the average man in the street would recognize is Frank Frazetta.
Frazetta created thousands of drawings and paintings for magazines, books and even movie posters. The man inspired a generation of artists that followed him and influenced the look of High Fantasy in every conceivable way. He died on Monday at the age of 82.
Frazetta actually got his start doing art for comics. He worked for EC and the company that would become DC, did a bunch of westerns and a few hero (including The Shining Knight) and horror comics. (Within the last few years, several comics based on his paintings have been produced, bringing it all full circle.) There are various pieces that could have been his, but aren't 100% attributed.
The best stuff he did in that period were covers for Famous Funnies featuring Buck Rogers. He was also active in comic strips, assisting Al Capp on L'il Abner and working on Flash Gordon before drawing his own comic Johnny Comet. These were far from what he'd be remembered for, but they were amazingly good bits. He would later do Little Annie Fanny for Harvey Kurtzman in Playboy. The 1950s and 60 saw him as probably the single biggest rising star in the game.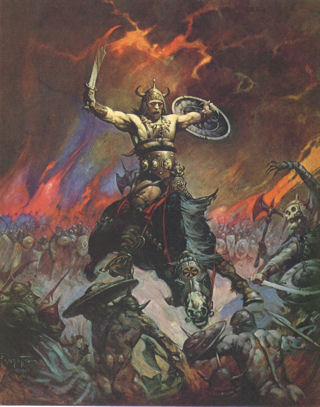 The cover painting of Conan the Conqueror.

Frank was also the king of the paperback cover. Starting in the late 50s, Frazetta paintings could be found on hundreds of books, most importantly on the Conan novels of Robert E. Howard. It's been said by many that Frazetta's covers defined the modern conception of Conan nearly as much as the writing of Howard himself. The visual language of John Milius' Conan the Barbarian feature owed a great deal to the art of Frank Frazetta.(and thus, perhaps, so do California politics...ed.)

His covers were legendary, and often they were exhibited in museums around the world. Frazetta very smartly held on to the original paintings for the Conan covers and eventually established his own private museum, refusing to sell any of them until 2009, when he sold one for a million dollars to a private collector. He has work in the permanent collection of several major collecting museums.

Frazetta did covers for albums, including two for Molly Hatchet, Dust and Nazareth. He did many movie posters, starting with What's New, Pussycat?. My favorite of his posters was The Night They Raided Minsky's. He would work in movies, including producing Fire and Ice with Ralph Bakshi. He did a few other films, typically having some influence on the process, but more just doing some elements.

In recent years, after a stroke that led him to change his drawing/painting hand, he went into semi-retirement. His children took over running the handling of the collection, which led to a disagreement with son Alfonso over the misappropriation of about 90 paintings, including several of the Conan paintings. This led to a couple of lawsuits and ended up with the authorities involved after a break-in at Frazetta's museum. Last month, the Frazetta children and their father settled the matter.

They say that you can measure the importance of an artist by the influence they have had on others. The most obvious influence Frazetta had was on another legend of fantasy and science fiction illustration: Boris Vallejo. Look at the posters for National Lampoon's Vacation and European Vacation and you can see the obvious influence. The lead artist for the Legend of Zelda series of games, Yusuke Nakano, has cited Frazetta as one of his biggest inspirations. You can even see his influence in the works of comics inker Jimmy Palmiotti and sports artist John Murawski.

Frazetta was one of the most lauded artists in the history of comics and science fiction. He won the Hugo Award for Best Professional Artist in 1966, and was nominated 5 more times between 1964 and 2004. He was three Chesley Awards, the awards given by the Association of Science Fiction & Fantasy Artists. He was named a Spectrum Grand Master of Fantastic Art and was granted the Lifetime Achievement Award by the World Fantasy Convention in 2001.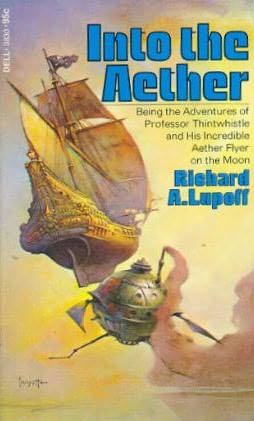 ah, so that's a simple aeroscayphe...

Sadly, he hasn't yet been inducted into the Science Fiction Hall of Fame, but he'll be in sooner than later

There are dozens of images that you can point to as examples of Frazetta's genius, but my favorite is a cover he did for a book by Richard Lupoff called Into The Aether.

His cover shows a rather simple aeroscayphe rolling down a hill. It's a piece any number of artists could have done a great job with. Somehow, without going way over the top, Frazetta managed to completely make the image his own.

You could tell instantly that it was a Frazetta, but you could also see that he hadn't pushed it too far. He went to the exact edge and there he stopped before going over. It's rare that an artist knows whenever to stop for it to be exactly right, and Frank had that ability.