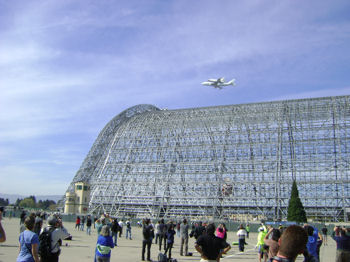 History flying over history...
The Final Flight of the Endeavour
For the second time in a month, NASA Ames Research Center on Moffett Field in beautiful Mountain View, CA, played host to a Geek Woodstock, and this time it wasn't just a shot of a control Room, it was the final fly-by of the space shuttle Endeavor piggy-backed on the 747 on its way to become a museum display at the California Science Center in Los Angeles!
About ten thousand science lovers of all ages gathered, including a considerable number of folks from Bay Area Science Fiction Fandom!
While most were expecting the shuttle to fly over the runway, it instead flew slightly to the west, providing images of the shuttle flying over the recently-depaneled historic Hangar 1.