WonderCon 2015:
In Brightest Day, In The Final Frontier...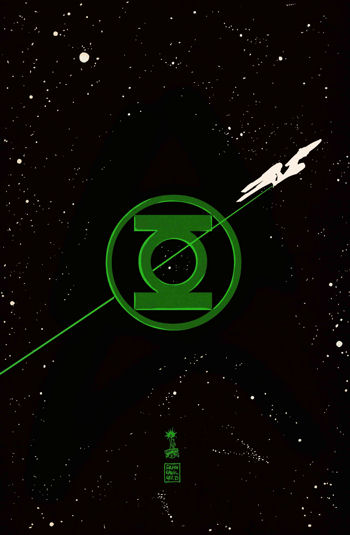 Why has every crossover between Star Trek and another franchise worked so incredibly well? Or at least, every crossover since IDW got the license? While still not quite finished with the ridiculously fun Star Trek/Planet of the Apes, IDW announces this one -- Star Trek and Green Lantern. The Federation meets The Corps. It's brilliant.
From the artwork below, it looks like this will be Hal Jordan meeting the Chris Pine version of Kirk, which actually makes a certain sense. Pine and Shatner both have swagger, but Pine's has a much more modern feel in line with the way Hal has been portrayed in recent years.
But that's too geeky, isn't it? Actually. where this is concerned, it's just right. Oh, yes, it is.
From IDW:
IDW Publishing, CBS Consumer Products and DC Entertainment announced today that they will boldly go where no one has gone before…in brightest day, in blackest night. Two iconic franchises will meet this summer in a legendary crossover event with the release of a six-part comic book miniseries, STAR TREK/GREEN LANTERN: THE SPECTRUM WAR. Both Star Trek and Green Lantern are known for their strong cast of interstellar characters and when they come together for the first time this July, fans new and old are sure to experience a galaxy-sized thrill.
STAR TREK/GREEN LANTERN: THE SPECTRUM WAR is six-part monthly mini-series and will be written by veteran Star Trek comic writer Mike Johnson with interior art by Angel Hernandez (INFINITE CRISIS: FIGHT FOR THE MULTIVERSE, ARROW). STAR TREK/GREEN LANTERN: THE SPECTRUM WAR #1 will be available in stores and online in July, boasting covers from Gabriel Rodriguez, Francesco Francavilla, Elsa Charretier, and Garry Brown. Following issues will feature covers from an amazing lineup that includes Declan Shalvey, Marc Laming, and more!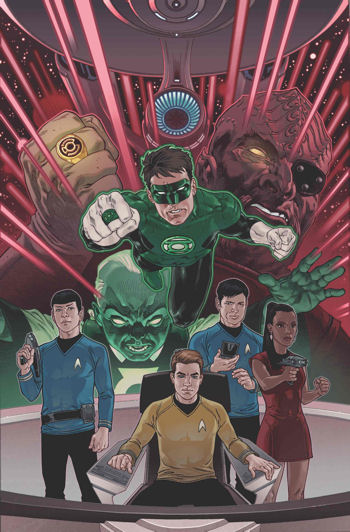 "We've looked forward to bringing these two iconic universes together for a long time," said Greg Goldstein, IDW President and COO. "Star Trek and Green Lantern both share so many of the same science-fiction adventure themes and ideals, that a galaxy-spanning crossover like this is simply…logical."
"Green Lantern is one of the most popular, storied characters in the history of comic books and a modern DC Comics icon. An entire universe of Green Lanterns and other supporting characters have grown out from his original adventures in the 1940's, and this series really showcases the intergalactic scope of the franchise," said Bob Harras, Editor-in-Chief of DC Comics.
A pop culture mainstay for almost 50 years, Star Trek's fan base continues to grow exponentially with the new feature films in 2009 and 2013. Now all Star Trek fans can watch their favorite U.S.S. Enterprise crew members meet Hal Jordan and the entire Green Lantern Corps in an adventure that spans space, time and all the colors of the spectrum.
Set in Star Trek's 23rd Century, the balance of the universe will be tested when the Green Lantern Corps' Power Rings come into the possession of certain Star Trek characters while a dark and powerful evil looms around every corner. Only the combined power of the Green Lantern Corp and the Federation stand any chance of stopping those who worship evil's might.