Comic-Con 2015:
Could Constantine Face Arrow?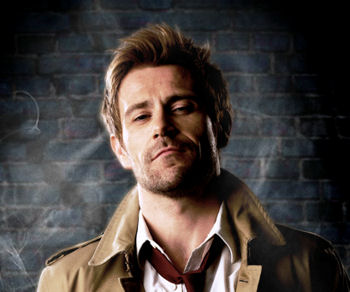 UPDATE: Yes. As of 8/11/2015, at the CW's presentation for the Television Critics Association, the network confirmed that Matt Ryan WILL appear as John Constantine on one episode of Arrow this season.
When NBC still hadn't made up its mind about renewing Constantine, Arrow star Stephen Amell offered to guest-star on the show as Green Arrow. This wasn't just to boost ratings, though that probably would have worked, but also because Amell truly appreciates and enjoys his role as Oliver Queen and as part of the DC Universe.
In an interview with IGN last weekend at Comic-Con, it sounds like that if they couldn't save Constantine, maybe John Constantine could at least give Arrow a boost. Depending on what Executive Producer Wendy Mericle calls "politics and scheduling," Matt Ryan could done the mystic trenchcoat once more. (Or he could borrow it from Arthur Darville when he's not using it for DC's Legends of Tomorrow.)
Apparently the idea started when the showrunners decided to use Damien Darhkk in the fourth season. As the character has mystic abilities, Oliver Queen could certainly use someone with a little magic. (Though maybe Cisco could come over from Central City and at least see the vibrations of the aether.)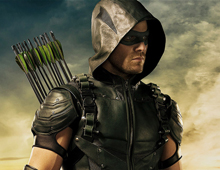 Politics would have to be internally within Warner Brothers. Reports had been that NBC had relinquished all options on Constantine. Though John Constantine has long been rumored to be a character in the Dark Justice or Heaven Sent supernatural DC superhero film project that Guillermo Del Toro just left, Chief Creative Officer Geoff Johns has made it clear that TV and movies can easily duplicate characters -- they're just parallel universes. (Ezra Miller, the cinematic Flash of the future, just admitted to being a huge fan of Grant Gustin's TV work with the character.)
So... will we see Constantine rise like Lazarus from the pit? Maybe the CW might consider reviving his series in a year or two? It may not be bloody likely, but it's fun to dream.
Here's the full piece from IGN: