Comic-Con 2015:
Puppet Bryan Cranston Leads SuperMansion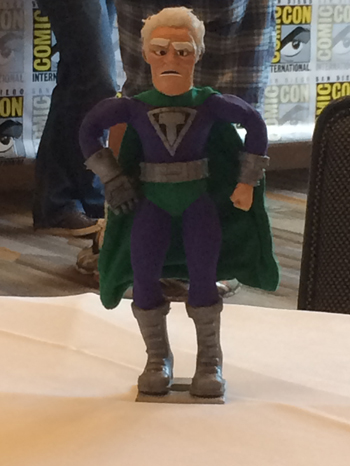 UPDATED 08/12/15: Hey! Here's a link to the actual site to watch it!
I'll be honest. It's been a long time since Crackle has announced a show that caught my attention. But the upcoming Supermansion did. Sony unveiled the trailer at a panel on Thursday, and gave us the chance to sit down with some of the talent as well. (Look out for that podcast!)
Created by Zeb Wells and Matt Senreich from Robot Chicken, the series got a major boost when Bryan Cranston not only agreed to voice the lead, but also come onboard as a producer.
Now whether or not that opened the door to the flood of high-profile talent also working on this stop-motion puppet superhero comedy, who knows? He is the one who knocks, after all. Actors like Chris Pine, Ron Perlman, Famke Janssen and Anton Yelchin have all come onboard for guest shots.
And the regulars are a pretty amazing bunch, too. Of course Seth Green is onboard, also executive producing. Keegan Michael Key and Jillian Bell will also be on week to week.
Feeling like a combination of The Last Days of the JSA and Kingdom Come combined with every seven or eight years of The Avengers comics, SuperMansion follows the adventures of Titanium Rex (voiced by Cranston, who's also the series' executive producer) as he struggles to live with and fight alongside the Millennial-aged, often lackadaisical members of The League of Freedom. There's no question that comics writer Wells knows this cold.
The main character breakdown is as follows.
TITANIUM REX (Cranston)
Age: Very
Powers: Flight, Strength of a Titan, X-Ray Vision
Specialty: Close to learning email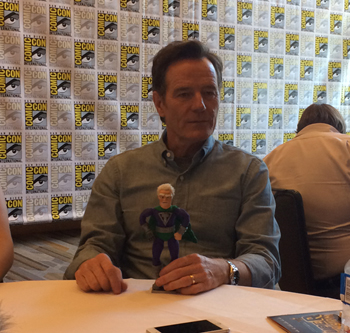 BLACK SATURN (Tucker Gilmore)
Age: 28
Powers: Never misses with his assortment of throwing disks
Specialty: Brooding. Bleakness. Frisbee Golf
AMERICAN RANGER (Key)
Age: 22
Powers: Wings for flight, an eagle eye for spotting trouble and a beacon of the American Dream. He's also skilled in traditional soldiery combat and peeling potatoes.
Specialty: Finding a way to perform in bed with his 90-year old wife. (The character has been in deep freeze since World War II)
ROBOBOT (Wells)
Age: N/A
Powers: A robot with the ability to transform his appendages into any tool
Specialty: Pondering what it means to be human
THE GROANER (Wells)
Age: Unknown
Powers: None
Specialty: Prop comedy, megalomania, being a good listener
Though the joke may die fast, I find it hilarious that their main arch-enemy is an evil prop comic.
At Comic-Con, Boom! Studios had a free giveaway tie-in comic written by Wells. I did ask about it, and at this point, it's not intended to become a regular series, just an SDCC exclusive. But maybe it this gets popular enough...