Comic-Con 2015:
Mighty Morphin Power Rangers Go Boom!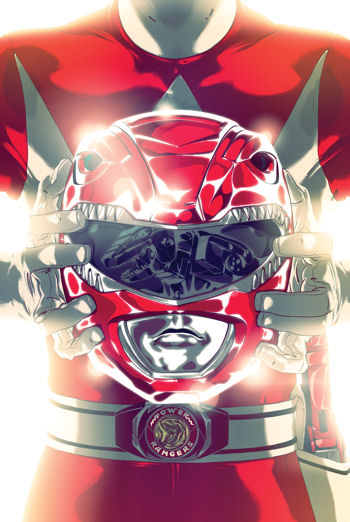 For Comic-Con, these will make cool little collectibles if you're a Power Rangers fan. Six one-page comics that can form one larger story -- hey, just like the Power Rangers form a giant... whatever it is this year.
That's not me being dismissive; I get the love people have for Power Rangers -- I was just too old when it started. But my friend Gaz Gretsky -- I think he's going to go nuts.
Details are not here yet about the possible ongoing series of comics that Boom! Studios may do. I know that the license had been with Papercutz, which were decent and kid-friendly. But Boom! is going to push #PowerRangersForward.
We'll see what that looks like soon...
From Boom! Studios:
It's Morphin Time! Award-winning publisher BOOM! Studios and Saban Brands are excited to announce a partnership to produce new Mighty Morphin Power Rangers comics, starting with a set of six exclusive, one-page comics that will debut at San Diego Comic-Con in July. The comics will be based on Saban's iconic Mighty Morphin Power Rangers television series.
Premiering in 1993, Mighty Morphin Power Rangers was a live-action children's television series about a group of ordinary teenagers who "morphed" into superheroes to save the world from evil. Each Ranger was identifiable by their individual Ranger colors: Jason the Red Ranger, Zack the Black Ranger, Trini the Yellow Ranger, Billy the Blue Ranger, and Kimberly the Pink Ranger. A sixth member, Tommy the Green Ranger, joined later in the series.
Since Mighty Morphin Power Rangers debuted, Saban's Power Rangers series has continued airing, now in its 22nd season, Power Rangers Dino Charge. BOOM!'s comic series will focus exclusively on Mighty Morphin Power Rangersand appeal especially to those super fans who grew up watching the show in the '90s.
"At least half of the team here at BOOM! grew up with Power Rangers, so having the opportunity to expand the legacy of this pop-culture icon is a dream come true," said BOOM! Studios Editor-in-Chief Matt Gagnon. "We have big, big plans that will build on the core universe of Mighty Morphin Power Rangers. We can't give too much away just yet, but the story we're kicking off with is vast in scope. Fans of BOOM! know we treat the existing properties we collaborate on with a focus on authenticity and quality. That's the same sensibility we're applying here. The Mighty Morphin Power Rangers have an awesome fan base and we can't wait to show them how much fun we're having."
"BOOM! Studios has developed an awesome new collection of Power Rangers comics," said Mary Rafferty, Senior Vice President of U.S. Consumer Products for Saban Brands. "Mighty Morphin Power Rangers, which launched as a global sensation more than two decades ago, is such a special part of the Power Rangers franchise. We are excited to share the classic story of these original Power Rangers in a brand-new way."
The initiative kicks off July 8th at San Diego Comic-Con, where BOOM! Studios will be exhibiting at booth #2229. The publisher will have an assortment of six double-sided, one-page comics in blind bag packaging available for sale. Each comic will focus on one Power Ranger and feature a pin-up image by Spectrum-nominated artist Goñi Montes (RoboCop) on one side, and a one-page comic written by Mairghread Scott (Transformers: Witchblade) and illustrated by Daniel Bayliss (Translucid) on the other side. The six comics are designed to be read as individual parts or can be stitched together to form one full story.
Details of the forthcoming Mighty Morphin Power Rangers comic series will be released at a later date.
Let us know what you think, via email, Facebook, or Twitter @FanboyPlanet.