Comic-Con 2015:
No Marvel Studios, But Marvel Television?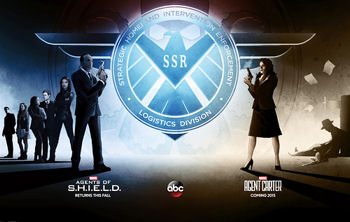 A few months ago, James Gunn caused a stir with a comment that Marvel was going to skip Comic-Con this year. A quick look at the exhibit hall map proved that the remark was misinterpreted. Marvel Comics will definitely be there, dominating the floor. But Marvel Studios would not be presenting anything from Ant-Man (opening two weeks after Comic-Con this year), Captain America: Civil War, or Doctor Strange. (I wouldn't rule out them having concept art posters to cause everyone to mob the Marvel booth, however.)
Today, though, Marvel announced that Marvel Television would still be attending -- so even though "it's all connected," as Jeph Loeb likes to say, it's not so connected that Television does the same thing as the movie production arm.
We're getting both animation and live-action at Comic-Con this summer, and really -- that will keep fans satisfied until D23, where the movie news is likely to spring. With a ton of people from Agents of S.H.I.E.L.D. and Agent Carter, the autograph session is going to be mobbed!
From Marvel:
On Friday, July 10th, the world-famous Marvel Television Presents panel returns as Jeph Loeb (Marvel's Head of Television) brings you exclusive news and surprises about your favorite action-packed Marvel series on ABC. Join Jeph, showrunners, and the casts of Marvel's Agents of S.H.I.E.L.D. and Marvel's Agent Carter for this must-see panel that'll have everyone talking!
Then, on Saturday July 11th, catch Marvel Animation Presents and see what's ahead in the world of Marvel Animation. Join Stephen Wacker (VP, Current Series – Marvel Animation Studios), Cort Lane (VP, Animation Development & Partnerships), and Eric Radomski (SVP, Production & Creative Director, Animation) for exclusive first looks at the exciting new seasons of hit animated series: Marvel's Avengers: Ultron Revolution and Marvel's Ultimate Spider-Man vs. The Sinister 6. Also, be there to catch exclusive never-before-seen footage from Marvel's Guardians of the Galaxy animated series! Star-Lord, Groot, Rocket, Gamora and Drax are back for even more intergalactic adventures in the highly-anticipated new animated series coming to Disney XD this fall.
You'll also have a chance to meet with the stars of your favorite Marvel Television series on ABC at two exclusive signing events at the Marvel booth (#2329) on Saturday, July 11th
MARVEL TELEVISION SCHEDULE:
FRIDAY, JULY 10:
Marvel Television Presents -- Panel Session
3:00 PM – 4:15 PM in Ballroom 20
Join the casts and producers of Marvel's Agents of S.H.I.E.L.D. and Marvel's Agent Carter!
SATURDAY, JULY 11
Marvel's Agent Carter – Cast Signing Event
10:00 AM at the Marvel Booth (#2329)
Cast Attending: Hayley Atwell, James D'Arcy, Tara Butters (EP), Michele Fazekas (EP), Chris Dingess (EP), Louis D'Esposito (EP) and Jeph Loeb (EP)
Marvel Animation Presents – Panel Session
10:30 AM – 11:30 AM in Room 6BCF
Go behind-the-scenes into the world of Marvel Animation!
Marvel's Agents of S.H.I.E.L.D. – Cast Signing Event
2:30 PM at the Marvel Booth (#2329)
Cast Attending: Clark Gregg, Ming-Na Wen, Chloe Bennet, Brett Dalton, Iain De Caestecker, Elizabeth Henstridge, Nick Blood, Adrianne Palicki, Henry Simmons, Luke Mitchell, Maurissa Tancharoen (EP), Jed Whedon (EP) and Jeph Loeb (EP).
Please note that both signings are ticketed events and passes will be available on a first-come, first-served lottery basis beginning at 9:30 AM on Saturday, July 11th at the Marvel Booth (#2329).
Let us know what you think, via email, Facebook, or Twitter @FanboyPlanet.