Comic-Con 2015:
EW Previews Batman v Superman Panel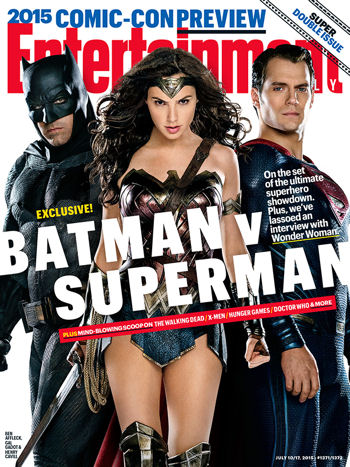 One of the most hotly anticipated panels of Comic-Con will be the Warner Studios movie panel in Hall H on Saturday, July 11 at 10:30 a.m.
Though the panel will also feature Pan (and bring Hugh Jackman) and The Man From U.N.C.L.E. (well, Ric Bretschneider and I are excited), the big news is going to be from Batman v Superman: Dawn of Justice.
Entertainment Weekly, which runs a Comic-Con Preview issue every year, got a little bit of news on the panel, and ran with pictures from the production we hadn't yet seen.
In addition to a cover shot that puts Gal Gadot as Wonder Woman front and center, we get our first real look at Jesse Eisenberg in character, an encounter between Bruce Wayne (Ben Affleck) and Diana Prince(?)/Wonder Woman in high-class civilian life.
Comic-Con's panel description lists appearances from Affleck, Gadot, Henry Cavill (who is also Napoleon Solo in The Man From U.N.C.L.E.), Amy Adams, Eisenberg, Jeremy Irons (Alfred), Holly Hunter, and director Zack Snyder. Granted, that's a lot. But I'm still going to stand by a prediction that we will also see Jason Momoa (Aquaman), Ezra Miller (The Flash), and Ray Fisher (Cyborg), even if it's just for the moment that Warner Brothers can drive the internet wild with a Twitter-breaking picture of the Justice League.
Oh, wait... that's one missing. Yes, I could be wrong, but I think we're also going to meet the new Green Lantern(s). And that's how Warner Brothers wins Comic-Con this year.
Check out the pictures below.
The heavily armored Batman faces off against Superman. Zack Snyder points out in the article that he likes the fact that Affleck is actually taller than Cavill. "I wanted Superman to have to feel like he was looking up to Batman despite being so much stronger."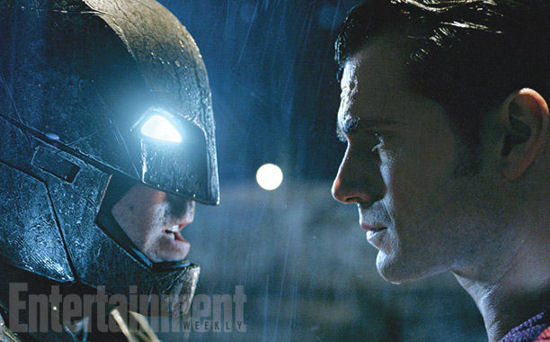 Familiar enough from the trailer, Batman stands beside the Bat-signal, calling down Superman like John Cusack calling down Ione Skye.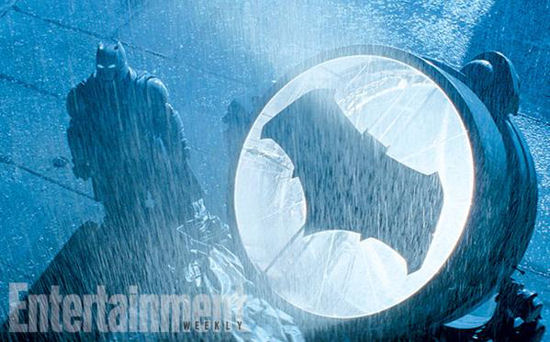 Jesse Eisenberg as a very irritated and strangely long-haired Lex Luthor. Let us predict that like Gene Hackman in Superman the Movie, it's a wig.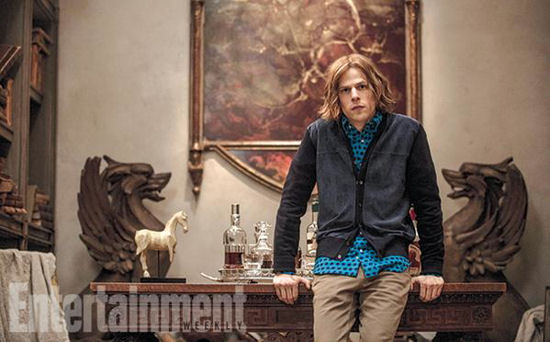 Reminiscent of Michael Keaton and Michelle Pfeiffer dancing in Batman Returns, no?
Superman surrounded by... a cult? Those who remember the dead of Metropolis? Or are they Silver Banshees?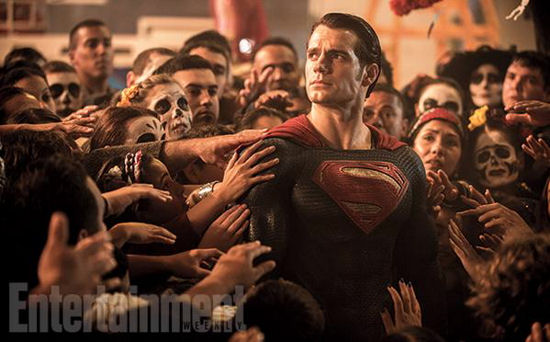 And a picture that I dearly hope is Zack Snyder asking Ben Affleck for advice. (I kid. Maybe.)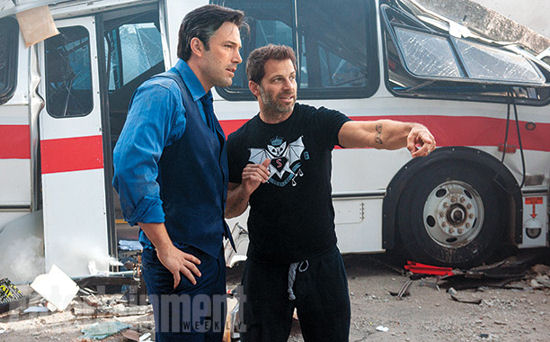 Let us know what you think, via email, Facebook, or Twitter @FanboyPlanet.