Comic-Con 2015:
First Look Deal For Dark Horse Entertainment!
Universal Cable Productions Developing Four Series

Terrific news for a company that has been circling around television production for quite some time. This isn't the solution for Hellboy 3 any time soon, but it will mean some unique books might have a chance to blossom into cool TV series -- which is where it's at if you have a story that doesn't feature at least a half an hour for every two of wanton destruction.
I'm going to get to catching up on some of these series, but I've long been a fan of Concrete, which is decidedly offbeat and wonderful and has been on again off again in development for at least twenty years.
Between the lines on this press release, it seems the most obvious home for these potential series is Syfy -- which has gotten more ambitious and back to its roots as a great home for quality science fiction and fantasy programming.
This also means that tomorrow as Comic-Con begins, Dark Horse will have major buzz as it moves deeper into "the Popular Arts."
From NBC Universal:
Universal Cable Productions (UCP) continues to expand its powerhouse producing talent and build upon the studio's genre footprint by signing a first-look deal with legendary comic book publisher, Dark Horse Entertainment ("The Mask", "Hellboy"). The deal announced today will focus on developing and producing scripted programming from their extensive comic book library as well as new material. Discussions for the deal began at Comic Con in 2014 when Dark Horse introduced UCP executives to some of their top writers and artists. Over the last year, those conversations continued and have yielded multiple television projects with direct involvement from the comics creators.
"Dark Horse Entertainment has an incredible roster of fantastical, witty and mind bending stories," said Dawn Olmstead, Executive Vice President of Development, Universal Cable Productions. "Their brand has conquered multiple media platforms and boasts iconic books that have attracted the highest level of writers. It's going to be a wild and imaginative ride."

UCP will collaborate with Dark Horse to bring their unique and fresh approach to the creative process. Together they will maximize Dark Horse's network of talented comic creators and robust library of content to develop character driven concepts for television intended to resonate with their current fan base. Dark Horse President and founder Mike Richardson and Keith Goldberg, SVP of Production, have enjoyed great success for the last two decades; no strangers to television, they also currently executive produce Syfy's "Dark Matter".
"As the landscape of narrative storytelling evolves, Dark Horse is thrilled to be working in the golden age of television with Universal Cable Productions. Their creative team has embraced the spirit of the Dark Horse brand and we're proud to be partnered with them." said Richardson.
Projects currently in development:
"Harrow County" - Emmy has always known that the deep, dark woods surrounding her home crawled with ghosts, goblins, and the restless dead. On the eve of her 18th birthday, she learns that she is connected to these creatures and to the land itself in a way she never imagined, for she is the reincarnation of a powerful witch who was put to death on the very day Emmy was born. For this reason, the townsfolk mean to kill her too. In order to survive, Emmy must embrace the unusual powers at her command. This project is based on the brand new book written by Cullen Bunn ("The Damned", "The Sixth Gun") and illustrated by Tyler Crook ("Bad Blood"). The comic quickly sold out of its first printing.
"The Umbrella Academy" - Nine years after parting ways, the estranged members of the Umbrella Academy, a dysfunctional family of superheroes with bizarre powers, must figure out how to work together to save the world. Created by Gerard Way (lead singer of "My Chemical Romance", and writer of "The True Lies of the Fabulous Killjoys") and Gabriel Ba (Daytripper); Bluegrass films is also attached to executive produce.
"Back Up" - In the near future, a new technology allows people to be backed up the same way we now back up our computers—but instead of protecting against drive failure, these backups protect against death. This project is based on a feature script by Tom Vaughn. Kenny Golde is set to write and executive produce, Brad Anderson ("Zoo", "Almost Human") is in negotiations to direct. Jim Wedaa is also attached to executive produce.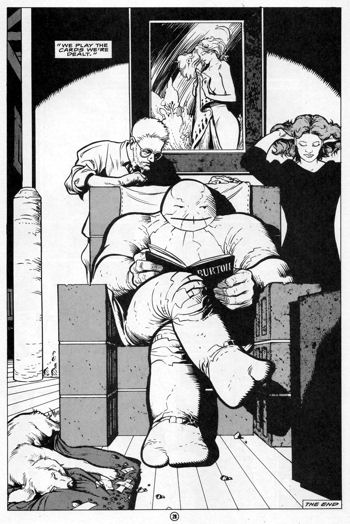 "Concrete" - After his subconscious is transplanted into a hulking stone body, Ronald Lithgow must come to terms with his new form and try to live a normal life. This Eisner award-winning title is the opus of comics legend Paul Chadwick.
Dark Horse joins UCP's leading producer line-up, including: horror icon Wes Craven; creator and executive producer of UCP's critically acclaimed "Mr. Robot" on USA Network, Sam Esmail; Gale Anne Hurd's Valhalla Entertainment; BenderSpink; and Jason Blum's Blumhouse Productions. UCP's extensive library of genre, fantasy and science fiction projects in the works includes: for Syfy - "Childhood's End", the first-ever adaptation of Arthur C. Clarke's iconic novel starring Charles Dance, Mike Vogel and Julian McMahon; "Brave New World", based on Aldous Huxley's classic novel which is being developed alongside Steven Spielberg's Amblin Television; "The Magicians", based on Lev Grossman's popular trilogy; and Wes Craven's "The People Under The Stairs", based on the 1991 film, and "We Are All Completely Fine", based on the book by Daryl Gregory. Plus the mind-bending thriller pilot "Falling Water" for USA Network from executive producers Gale Anne Hurd ("The Walking Dead") of Valhalla Entertainment, Blake Masters ("2 Guns") and the late Emmy Award-winner Henry Bromell ("Homeland").
Let us know what you think, via email, Facebook, or Twitter @FanboyPlanet.