Comic-Con 2015:
Keep Your Eye On Riverdale

Because Archie Comics as a company feels like that old friend that's always there, it's sometimes easy for them to get a little lost in the bombast of Comic-Con.
But that would be a mistake. In 2015, they've been making moves to remind us that they're players as nimble and fresh as The Big Four in comics.
Case in point: the very strong relaunch of Archie as a book that restarts continuity -- if you'd ever thought of it as having continuity -- and revisions the characters to move forward in the 21st century.
And while we're all excited about superhero series across the networks, Archie Comics, too, developed a show with their CCO Roberto Aguirre-Sacasa, who had written for Glee before pushing this Riverdale Renaissance. Yesterday at Comic-Con, they were able to announce that Riverdale is coming, and it will be where it actually makes the most sense.
Originally developed for Fox Television, Riverdale will now debut on The CW, and really, that's the place that will nurture it. The network should just claim CW stands for "Comics, WOW!"
Their press release explains:
Riverdale, a dark, twisty, one-hour drama based on the iconic Archie comic book characters, including Archie, Betty, and Veronica, as well as Josie and the Pussycats, is now set-up at The CW network, with the key players remaining the same: Warner Brothers is the studio, THE FLASH and ARROW chief Greg Berlanti is producing and Roberto Aguirre-Sacasa, Archie's Chief Creative Officer, is writing the pilot.
"The CW is a perfect for for the vibe and tone of the Riverdale series," said Archie Comics CEO/Publisher, Jon Goldwater. "We couldn't be in better hands. Working with WB, Greg Berlanti and having Roberto involved has made this a dream project come to life. This is a major, major thing for this company."
As fans know, Aguirre-Sacasa is also the mastermind behind Archie's two bestselling and acclaimed horror titles, AFTERLIFE WITH ARCHIE and CHILLING ADVENTURES OF SABRINA. He is also a consulting producer on the Supergirl series.
The "Riverdale" news comes hot on the heels of the hugely successful sellout Archie relaunch, kicked off by a stellar debut issue from the powerhouse creative team of writer Mark Waid and artist Fiona Staples, which has been the buzz of this year's Comic-Con.
I didn't know that Aguirre-Sacasa was working on Supergirl as well, but that makes sense, too. (We'll talk about THAT show elsewhere, but it's bound to be a hit.)
Oh, and it looks like their horror line isn't just the entertaining and imaginative Afterlife with Archie and Chilling Adventures of Sabrina anymore. The following image came in last night, and I'd say this means a third book is coming -- loosely connected to the other two, as they in turn take place in separate timelines but also somehow overlap.
Are we ready for Vampironica? I sense a whole new layer of cosplay for next year.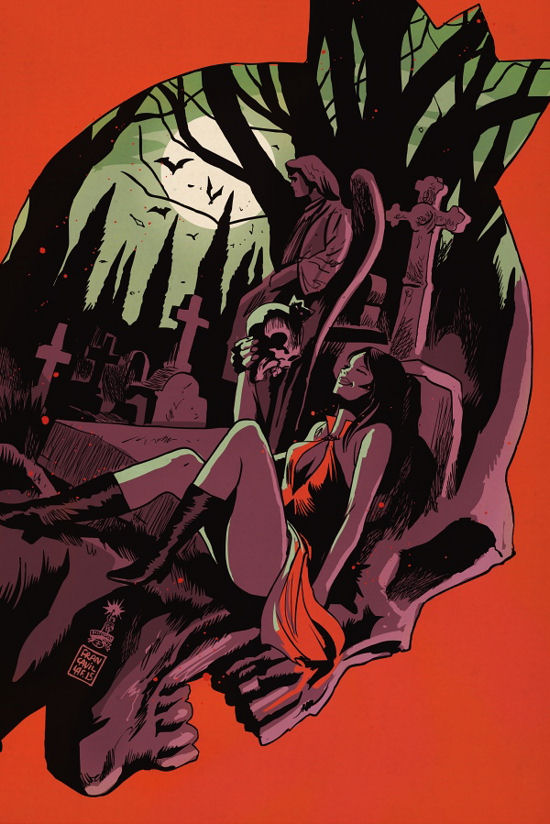 Let us know what you think, via email, Facebook, or Twitter @FanboyPlanet.