WonderCon 2014: Disney Publishing's First Star Wars Plans
Retelling Original Trilogy For A New Generation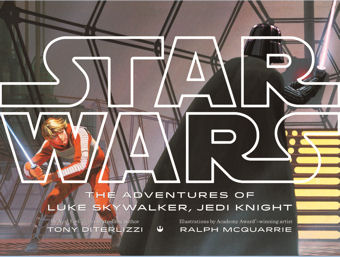 It begins. And it's odd to think it, but yes, there probably is a whole new generation that doesn't have access to those great storybooks we had as kids, pop-up books, Big Little Books, etc. -- they think it all begins with... gasp... The Phantom Menace.
So as Disney gears up for Episode VII, confirmed to be set thirty years after Return of the Jedi, it's time to return the focus to the real hero of Star Wars -- Luke Skywalker.
As the studio plunges into the future, they show some respect for the past, by introducing a whole new generation to the work of Ralph McQuarrie. Right now, I'm pretty impressed with this move.
From Disney Publishing:
Disney Publishing Worldwide (DPW) announced today the upcoming global release of four new books based on the original Star Wars film trilogy. The classic Saga will come to life like never before through adaptations by bestselling children's authors Tom Angleberger, Tony DiTerlizzi, Adam Gidwitz, and R.J. Palacio. Each of these celebrated authors will bring their contemporary, unique voice to the galaxy far, far away, bridging the multi-arc storyline in anticipation of the release of Star Wars Episode VII in December 2015.
The Star Wars Saga program will hit stores beginning in October of 2014, with THE ADVENTURES OF LUKE SKYWALKER, JEDI KNIGHT a picture book written by New York Times bestselling author Tony DiTerlizzi (The Spiderwick Chronicles), illustrated with concept art created by Ralph McQuarrie, for the original Star Wars films. This winning collaboration, combining the entire storyline of the original trilogy, is bound to delight dedicated Star Wars fans and enthrall readers new to the series.
Additional titles to follow include new retellings of STAR WARS: A NEW HOPE by R.J. Palacio (Wonder), STAR WARS: THE EMPIRE STRIKES BACK by Adam Gidwitz (A Tale Dark and Grimm) and STAR WARS: RETURN OF THE JEDI by Tom Angleberger (Origami Yoda series), which will be illustrated by award-winning Star Wars concept artist Iain McCaig. The new series will be published in the United States under Disney-Lucasfilm Press, an imprint of the Disney Book Group.
"We continue to explore ways to introduce new fans to Star Wars," said Carol Roeder, Director of Lucasfilm Franchise Publishing, Disney Publishing Worldwide. "By publishing dynamic interpretations of classic Saga stories written by authors who speak directly to this generation, we will give young readers a great entry point into thisuniverse."
"Disney Publishing couldn't be more thrilled to have the opportunity to publish these books globally and to work with such an array of celebrated talent," noted Jeanne Mosure, Senior Vice President and Group Publisher of Disney Publishing Worldwide. "There's a genuine sense of enthusiasm and affinity that these authors have for this classic material, which makes this collaboration feel fresh, instantly synergistic and effortless."
For over a 35-year period, Star Wars is still one of the most powerful and successful film franchises in the world. During that time, the Star Wars publishing program has spawned an incredible 125 New York Times best-sellers with more than 125 million books in print, in over 30 languages.