Comic-Con 2014:
Pizza Hut Sponsors TMNT "Pizza Thrower"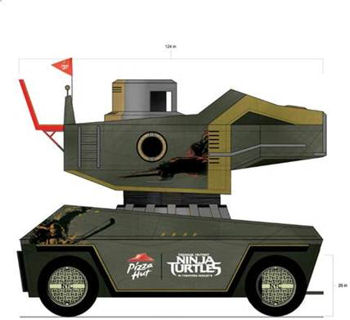 It's almost like something out of Mad Max, but for those who fully comprehend the war cries of "Cowabunga!" and "Turtle Power!", you know what it really is -- one of your dream toys brought to glorious twelve-foot-high life.
Yes, though it's being used to promote the new Teenage Mutant Ninja Turtles movie coming from Nickelodeon and Paramount in August, it's something out of your glorious past. With the help of Pizza Hut, the Turtles are armed and ready to take on Comic-Con.
Actually, it's Con attendees who will be allowed to take it on, climbing aboard and shooting fake (and oxymoronic) oversized cheesy bites at targets simulating Shredder. No word on if the Foot Clan lies in wait. Considering the Gaslamp's fine bars, they're probably already sauced.
Described as "two tone military green with a pizza resistant finish", the weapon of mozarella destruction was actually designed by the Los Angeles based Synn Labs, a company which clearly uses its powers only for good. Actually, their mission seems to be about combining technological prowess with fun design to wake up the possibilities in creativity and imagination -- for something more important than just taking down Shredder. They want to spark thought.
The interactive display will be over at the Petco Interactive Zone, located in a parking lot on the far side of Petco Park from the Convention Center. It may be a little bit of a hike, but it's well worth it, to take in this and other fun installations.
Oh, and you won't just be firing cheesy bites. Those that stand against the forces of evil will also get a slice of Pizza Hut pizza. This sounds like a good mid-afternoon break from the Convention Center, and a chance to prove yourself a Hero in a Half (Calzone) Shell.
We will have an update later as we explore this event ourselves!