Comic-Con 2014:
Len Wein To Adapt Lost Harlan Ellison Batman '66 Episode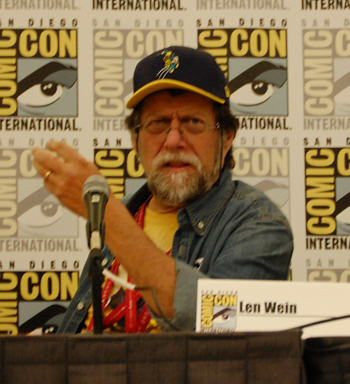 Announced this weekend at the DC Digital panel and then repeated by Len Wein at Sunday's Pro/Fan Trivia Match, DC is about to outdo IDW in adapting Harlan Ellison's "lost" work.
Sure, IDW has Harlan Ellison's City on the Edge of Forever, but who knew that Harlan had written an episode of Batman which was never produced?
It wasn't out of budget. Rumor has it that producers had even considered casting Clint Eastwood, then hot from Rawhide, as the villain. But it was the villain himself that was deemed too scary for television -- Two-Face.
In November -- hey, coinciding with the release of the complete TV series on DVD and Blu-Ray -- we will finally get to see how Harlan Ellison and the Adam West Batman would have taken on Harvey Dent in Batman: The Lost Episode.
Adapted to digital comics (hard copy will follow) by the legendary Len Wein, the story will be illustrated by Jose Luis Garcia-Lopez (the man who essentially defined DC's "House Style" for licensing in the '80s) with inks by Joe Prado.
Wein mentioned at the Match that Alex Ross will be doing the cover, which follows along with his stellar work on the Batman-Green Hornet crossover currently happening, written by Ralph Garman and Kevin Smith. (Okay, we all know it's Garman!)