Comic-Con 2014:
Help Batkid Begins Begin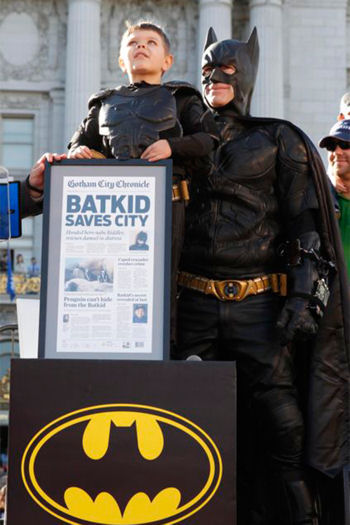 How did one child's wish capture the imagination of the city and the world?
If you listen to the Fanboy Planet podcast, you may have heard last week as we interviewed award-winning documentary filmmaker Dana Nachman about her latest project, Batkid Begins. Aside from being a beautiful and inspiring story of hope, the film will be featured in a panel at Comic-Con on Sunday, July 27 from 10:30 to 11:30 in Room 8.
It's not just the story of Miles Scott, a four-year-old boy fighting leukemia and holding onto the image of Batman as his totem in that battle. It's about how an event expected to have a couple of hundred people participating exploded into twenty five thousand gathering in San Francisco to transform the City by the Bay into Gotham.
The events of that day went viral, with over two billion people watching YouTube videos, newscasts, talk shows and the like discussing Miles' dream come true. While Miles is winning his battle, there are still many children out there fighting that could use inspiration, too.
To get the film made, Dana and a team of producers have started an IndieGoGo campaign, which closes on August 19, 2014. Take a moment to check out their plans, and if you feel so moved (I do), contribute to the fund to get this documentary made.
And if you are at Comic-Con on Sunday, consider attending the panel. You'll get an in-depth discussion from the adults who played key roles both fictional (as Batman, The Penguin and the Damsel in Distress) and real (as organizers and Silicon Valley professionals), as well as a look at the Make-a-Wish Foundation.
Let's face it -- we wouldn't be there at all if we didn't believe in heroes.