Comic-Con 2013:
Glenn Farrington Kickstarts ComiXwriter

Do you need it? Probably.
Many many emails come through in the weeks before Comic-Con, but this one caught my eye -- a request to check out a new software called ComiXwriter. Promising to do for comics writing what Final Draft has done for screenwriting, well, that sounded interesting.
So creator Glenn Farrington and I exchanged a couple of emails. Comic-Con gets busy, and there isn't a hard package for ComXwriter yet, but it did seem just too interesting a project -- and perhaps too important a project -- not to stop by the AiT/Planet LAR/First Comics booth and see if Glenn and I could cross paths.
We finally got a moment on Sunday, and I'm really glad I did. In addition to designing ComiXwriter, Glenn has also written a short graphic novel called Lives with the Fillbach Brothers as artists. A deceptively simple (at first) look at slices of life intersecting, it's one of those graphic novels that really reminds you that despite the dominance of superheroes in comics (and I love my superheroes), this is an art form fit for telling every kind of story we have. Lives is human and heartbreaking and I thank Glenn again for letting me sit and read it in his booth.
So here's our conversation...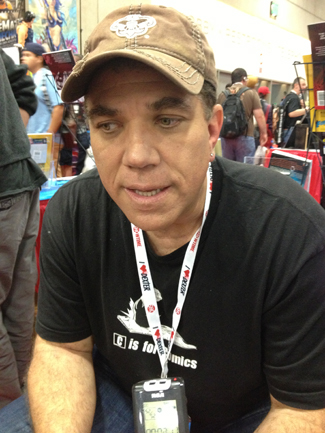 "You've got to kind of feel what's right for you.."
Derek McCaw: Why do we need this? I mean, Final Draft does have templates for graphic novels...
Glenn Farrington: You can start at cost. I mean, you're spending $249 for a software that's for screenplay writing, that allows you a couple of templates to do what you want, if that's what you want, for comic book writing. Unlike screenwriting, where there's really only one structure that you should follow, for comic books, there's a lot of different styles. There's a lot of different ways of doing it, even the old Marvel way at the extreme.
There's people like Andy Diggle that does like the screenplay format, but a lot of people adjust it left. At the end of the day what ComiXwriter does, it allows you to have the style you want to write in. We give you eight to ten sample scripts you can choose from close to your style.
Change it for however you want it to fit your style, and then ComiXwriter automates everything the way Final Draft would do it. It automates your page numbers, your panel numbers, your characters. When it comes to dialogue, when it comes to exposition, sound effects, bubble writing, however you decide to write it, this automates it.
Page breaks, line spacing, things that you think are not important are huge when it comes to be able to export a script. On a basic level, that's where it's better -- in price and on features. But on stronger levels -- because I realize that there are softwares that are free and almost free, but my dad used to say you kind of get what you pay for -- frankly, they're great to have because up until now we haven't had anything else. We've had to go up to expensive softwares like Final Draft or Movie Magic...
Derek McCaw: Right, and what some people interested in trying might not be aware of is that each publishing company seems to have a different format...
Glenn Farrington: Yeah. You've kind of got to feel what's right for you. I've used Scrivener for years for their outlining. I love their outlining feature. That's why I made sure that ComiXwriter had to be as good if not better.
If there's something that I already love I have to ask how do we make that better for comic book writing. Because their outlining is really for novel form, or again for screenplay, and it isn't perfect, but it's all we had.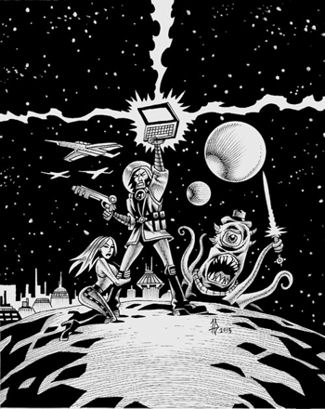 Promotional art. Feel the power!
The one thing that I wanted to make happen is that there's something that is definitively just for writing comic books and graphic novels. Because we have certain structures and needs that aren't necessary for a screenplay, that aren't necessary for a novel. Or any other software that's out there. And frankly, every other form of writing has a software for them. We've always used software that has been for other types of writing, and we try to shoehorn it into what we do.
Derek McCaw: Have you had any interest from publishers in offering their templates? I mean, say, having Dark Horse say here's what we want our writers to use?
Glenn Farrington: The only thing that I can say right now is that people have been talking to us. And that was early on, and two here at Comic-Con requested a meeting with me. That was out of the clear blue sky, and that was kind of nice. That was our hope, because we really wanted a major publisher to realize that we're here as a tool. And that's what it is!
You go to the artist, they've got so many tools for creating artwork digitally, and there's nothing for us. It's always somebody else's, that doesn't have anything to do with us. So it's nice to see the industry starting to realize, okay, if this is a viable tool, we'd like to be a part of it. That's kind of where the talks have been right now.
Derek McCaw: And it's still in a Kickstarter campaign?
Glenn Farrington: Thursday at 2 p.m. it's over. $35,000 is the goal, and we're at $26,000 right now. I know there's a lot of people waiting 'til the end, I wish you wouldn't wait 'til the end, but... actually, a little while I felt that maybe we didn't have a chance, but then over the weekend $10,000 came in so...

Yes, Nate. Har, har, har.
Derek McCaw: How much is the software going for?
Glenn Farrington: The software on the Kickstarter page you can get for as low as $47 currently. There are levels at $50 and $60. At the $70 level, Larry Young the editor and publisher of PlanetLar will give you notes on your comic book or graphic novel script, which is kind of cool to get it from a publisher, because you really find out what they want to see.
Matthew Dow Smith was kind enough to offer doing artwork of your character. Richard Starkings is on our advisory board, and he offered some free fonts for a level. We have things for whether you're a letterer, an artist or a writer.
Plus we have t-shirts and some stickers that are cool, because there might be people that are interested in what we're doing but aren't writers, just happy that there are people trying to do what we're doing with our project. So I made sure we had things for them, too.
We'll talk a little bit more about Lives, but because of the time sensitivity of the Kickstarter Campaign (going until 7/25/2013), it seems best to stop here for now and tell you that you can check it out HERE.
If you get it, let us know how it's working out for you! I'm heading over there myself...