NYCC 2013: What Time Is It? Oh, YOU KNOW...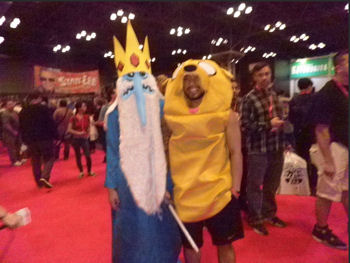 Adventure Time and Regular Show are the current powerhouse lineup of Cartoon Network, so it was no surprise that Adventure Time was being heavily featured at this year's New York Comic Convention. A very enjoyable panel moderated by Dave Itzkoff of The New York Times featured a lively discussion with top talents Pendleton Ward (Adventure Time creator,) John DiMaggio (Jake the Dog,) and Jeremy Shada (Finn) as well as writers Ward, Kent Osborne and Rebecca Sugar.
There were fond musings about pizza, the princesses of Ooh! and the occasional burst into song. The audience was more than happy to provide backup vocals to the "Bacon Pancakes" onus.
When asked at the subsequent roundtable that the bulk of the panelists did for the press directly after the panel if they had ever tried making said pancakes, the answer was a resounding "No," but DiMaggio was thorough in his instructions to young mentee Shada about how to do so. "Cut the bacon into small pieces, raw – that's the key – and cook the pancakes in the fat, not too much, just enough." You can bet that we all wrote that down.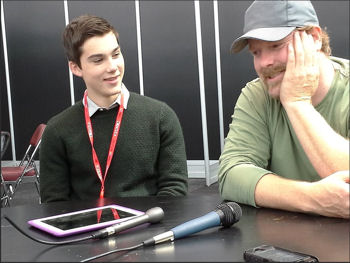 Throughout the roundtable discussion, we learned that Adventure Time will soon feature an episode once considered a shark-jumper by the writers, that Shada has become an official New Yorker by mastering the art of jaywalking (DiMaggio is a native,) that all of us would like to get drunk with Jake the Dog, and that Lumpy Space Princess is the person we would prefer to get lost in Candy Kingdom for all eternity with.
We lamented the rate at which half rainicorn children (and Jeremy) grow up these days, ruminated about Finn's particular brand of maturity being the sole human remaining in the land of Ooh! and that only journalists spout words like "gallivanting" in normal conversation.
We bemoaned the unlikelihood of Jake the Dog bringing any luck to The Jets (although right now, they do appear to be on a roll, so perhaps it worked after all?) and that may be part of the reason that Shada has learned so many curse words.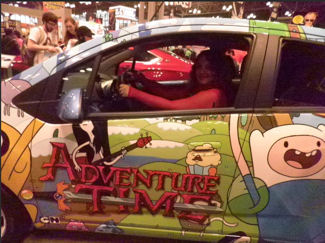 However, it is this very relationship in real life which has art imitating life and grounding Finn due to his relationship with Jake. We also agreed that no one doesn't love space cats, that fallings out with individuals in our life are much more cathartic when played out on the screen by cartoon versions of ourselves, especially if they're The Ice King.
The most surprising revelation? Possibly that a lot of ideas are spawned from a Pictionary-style game that the writers play during down times.
Mostly, we learned that Adventure Time works because Pendleton Ward is brilliant, the characters imbue the correct amount of lunacy with relatable human qualities, and the working environment feels like a family. I can't wait to see what's in store for this season.