Comic-Con 2012:
THE FIRST WORKING SONIC SCREWDRIVER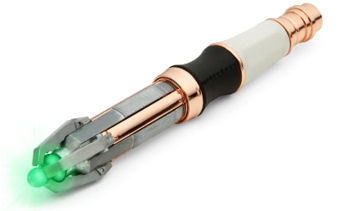 I saw it. I know I want it. And you will, too.
BBC Worldwide, The Wand Company and Thinkgeek.com have combined forces to bring another fan fantasy to life. The first working sonic screwdriver will NOT actually open doors, etc. but it will do the next best thing: control almost all electronic devices you have. Perfect for sitting back, enjoying fish fingers and vegging to BBC-America.
Read Thinkgeek's press release and then... Geronimo!
From ThinkGeek:
ThinkGeek, working in partnership with The Wand Company and BBC Worldwide, has obtained alien technology from beyond time and space and are ready to unveil it, the Sonic Screwdriver Universal Remote Control, in Booth #3629 at this year's San Diego Comic-Con on July 12, 2012.
A high quality metal replica of the Mark VII Sonic Screwdriver currently used by the Eleventh Doctor, Matt Smith, the Sonic Screwdriver Universal Remote Control is a gesture-based remote. Utilizing infrared (IR) technology it is able to manipulate almost all Earth-based home entertainment systems – from TVs to iPod docks and beyond.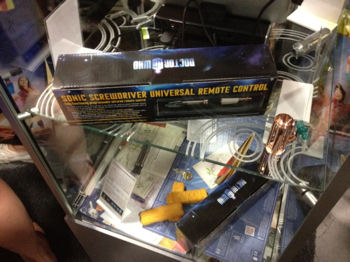 Through the piece's advanced gesture recognition technology, wielders of this powerful tool can put the power of 39 commands in the palm of their hand.
Chris Barnardo, Co-founder of The Wand Company says, "As well as being a universal remote control, the new Sonic Screwdriver will have a host of other great gadget features that we can't wait to tell everyone about at Comic-Con."
Control is straightforward, even for humans. The Sonic Screwdriver Universal Remote Control works via a series of 13 short gestures, such as rotating, flicking, and tapping. A guided set-up procedure uses spoken prompts to match gestures to commands learned from remotes originating here on Earth.
Those interested in viewing this unique collectable will be able to view and experience it at BBC America Booth #3629 during the duration of Comic-Con. ThinkGeek.com will begin collecting interest at the same time with sales launching on August 31, 2012.