Comic-Con 2011:
THE ULTIMATE SWAG BAGS HAVE BEEN IMPROVED!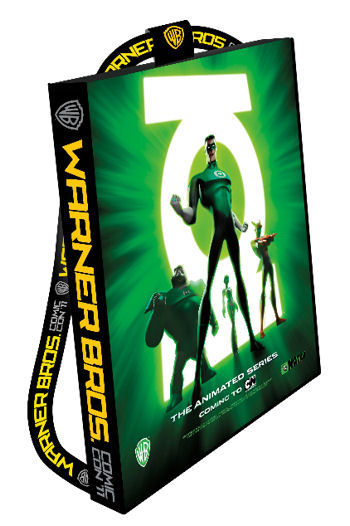 Five years ago, Warner Brothers started giving away the fabled Comic-Con swag bag from their booth. Then last year they went ahead and said, all right, EVERYBODY gets one the second they enter.
They also learned further, as some other enterprising company -- and honestly, the bag was so big you'd think I would remember who it was -- also offered a bag that doubled as a backpack that threatened to become a personal glider. The Rocketeer's rocketpack was smaller and lighter than this thing.
So Warner has modified their design a bit so that it can be a bag or a backpack. It's still cool. And you know you're really getting ready for Comic-Con when you start dreaming about which bag they might hand you...try to guess which one I want...
From Warner and Comic-Con:
The dynamic duo of Warner Bros. Entertainment and Comic-Con have renewed their powerful alliance for 2011, and the Studio will once again serve as sponsor of the Comic-Con International: San Diego Official Bag.
More than 130,000 of the signature, oversized (24"x28") bags — dubbed the Con's "ubiquitous accessory" by Entertainment Weekly — have been produced, and will be available to fans attending Comic-Con upon checking in throughout the five days of the convention, including Preview Night.
For the first time, the 2011 edition of the bag converts into a backpack, making it as cool as ever — and even more functional! (And, yes, the protective poster tube remains intact.)
To download images of all 10 bags, as well as the official Comic-Con 2011 artwork side of the bags, please click here:
www.thewb.com/comiccon/officialbags2011
Designed by Warner Bros. Worldwide Television Marketing, each double-sided bag features all-new Comic-Con 2011 official artwork on one side, with the other side featuring a design highlighting one of 10 different titles, including live-action and animated television series, video games and comic books from Warner Bros. Television, Warner Bros. Animation, Warner Bros. Interactive Entertainment and DC Entertainment.
The featured titles are "The Big Bang Theory," "Fringe," "Supernatural," "The Vampire Diaries," "Green Lantern: The Animated Series," "The Looney Tunes Show," "ThunderCats," "Batman: Arkham City," "LEGO Harry Potter: Years 5–7" and "Justice League."