Comic-Con 2015:
Dr. Mo, Hero of The Hero Initiative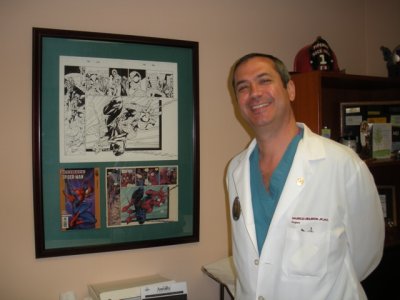 UPDATE: It's time once again to turn the spotlight on The Hero Initiative.
Started by concerned industry professionals, the organization raises and oversees funds to help those older comics pros who may be in need of assistance. As their own website puts it, they provide "…a financial safety net for yesterdays' creators who may need emergency medical aid, financial support for essentials of life, and an avenue back into paying work."
A worthwhile cause, indeed, and through a series of coincidences at Comic-Con I found myself sitting down with Dr. Mauricio Heilbron, allegedly occasionally known as "Dr. Mo" (and if that's not true, I'm starting that now, because it's not a bad superhero name for him). In addition to his regular practice as a fully boarded general surgeon (with Vascular expertise), Dr. Heilbron serves The Hero Initiative as medical consultant.
UPDATE 2015: Since our conversation in 2011, Dr. Mo has become better known in Los Angeles as the medical expert on KROQ's Kevin and Bean Show, and occasionally subbing for Dr. Drew on Loveline. He has also written several articles on medical issues and the trials of being a doctor.
Full disclosure: Mo and I attended UCLA together and lived in the same dorm, but the happy coincidence here was that we hadn't actually seen each other in the intervening years. Not only a mini-college reunion, but one caused by comics!
Derek McCaw: How did you get involved with The Hero Initiative?
Mauricio Heilbron: Several years ago when they were just getting started, I sent them an email or phone call saying "I'm a physician and a comic geek. These are my people. If you ever need help, feel free to use me as a resource."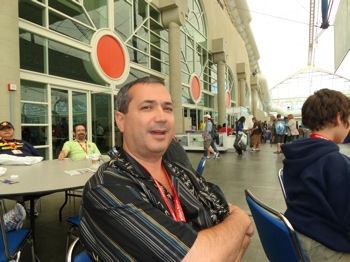 Several years later, I got an email asking, "are you still interested? If so, call me." And I ended up talking to Jim, Jim McLauchlin. And he told me that Hero was looking for a medical consultant and a legal consultant to make sure they used the funds they collected in a reasonable way.
I told them I could do that. They needed someone who could say whether this money should be spent on rehab or therapy or drugs or surgery or… how should they proceed? What would be the best way to use this money?
I said I could help guide that. I'm a general trauma doctor and surgeon, so I can oversee a bunch of stuff. But in terms of orthopedics or diabetes, I also have resources. I can ask around. I can do some inquiries. I can make sure they're using their money wisely.
Derek McCaw: So do you coordinate a staff?
Mauricio Heilbron: No. It's just me.
Derek McCaw: What do you think some of the biggest challenges facing The Hero Initiative are, especially with the older creators? You mentioned diabetes, and it seems like that has been one of the most common health problems.
Mauricio Heilbron: Recently, I drove up to L.A. to have lunch with one of the older guys, who's super famous. He needed knee replacement surgery and was quite hesitant about it. Now he lives in a single room apartment, getting along selling his artwork on commission, and he's selling his comic book collection through some people that we know.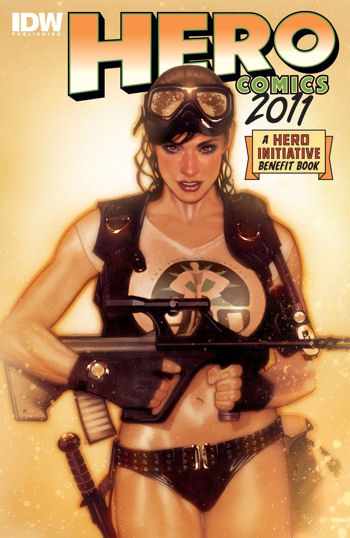 I went up to meet with him, to talk to him about stuff that we can do, what he can expect, not to be so scared about it, how we can get organized for him. He has some money from Medicare coming in to pay some of the doctors, and so what I did was make a few phone calls, introduce myself to his physicians up in the Valley, ask if I could be of any help, if I could help get information, that sort of stuff.
Then when he had the surgery and just sailed through it effortlessly, he ended up in rehab and physical therapy. Hero kicked in a few bucks to make sure that he didn't have to worry about it when he got out. A lot of times medical bills can be pretty lousy.
Derek McCaw: For people who are encountering The Hero Initiative for the first time – not everybody makes it to the Cons and is aware of what they do – why does it need to exist?
Mauricio Heilbron: Because many of the people that we take for granted, many of the people without whom this would not exist, are old men now. They're in their sixties, seventies and eighties with medical problems, but were never paid fairly, were never reimbursed for their efforts, didn't have any sort of legal representation for ownership of their rights.
And some of these people at the time made killer amounts of money. The guy I helped, at one time in the 1960's he was living in the Playboy Mansion. He was a high roller back then. But again, had no foresight, no health (plan), and now no pension, no nothing.
Derek McCaw: Do you think the industry has changed so that someday you won't have this job?
Mauricio Heilbron: Yes. I can't imagine – nowadays, it seems like things are so corporate and so, almost impersonal, but… Marvel being owned by Disney and DC being owned by Warner, they have their in-house medical plans. Now that you're an employee as opposed to a contractor, I think it changes.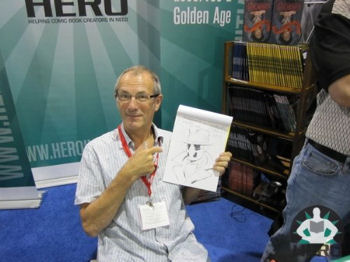 Also, I think people are getting smarter. The creators of the age, if they ever hit it big, know how to do things a bit more wisely than they did before. There's more fear out there, and people are learning from this very scenario. "I don't want this to be me."
Derek McCaw: As a long-time comics fan, what excites you? What books grab you?
Mauricio Heilbron: I can't even say I'm a fan. This is part of me. This has been me since I was in second grade going to the local Thrifty, buying Amazing Spider-Man 102 off the bottom shelf, which is still my favorite comic ever.
Derek McCaw: Is it kind of sad that all of us remember buying comics from chains of stores that don't exist anymore?
Mauricio Heilbron: Absolutely. Buy them off the rack from the spinners, those wire racks…
Derek McCaw: Oh, we are old. But what things are getting you excited now?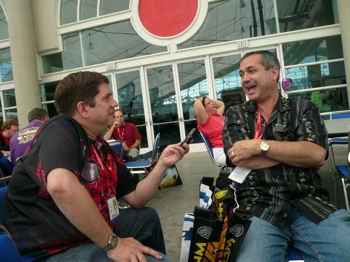 Mauricio Heilbron: I've read every single Spider-Man book forever. Actually, the honest thrill is seeing for the first time, me, my comic fandom and my movie fandom overlap so well. If you think about it, we didn't have this.
I went back and saw the original Superman, which is perfect. In 1978, for a comic book guy to go into Superman, it was a religious experience. It was after Star Wars. They did it with humor and they respected the source and it rocked.
Now just the excitement of what they're going to do with Spider-Man and Andrew Garfield and Emma Stone, having seen the Brian Michael Bendis revamp – wait, it's 115 issues in – the care that they took with that… what I felt was going back to reading the old Steve Ditko Stan Lee stuff. They were just so simple. So clean, so crafted…. I think we get away from that sometimes.
Derek McCaw: So you're happy with The Amazing Spider-Man, the movie revamp.
Mauricio Heilbron: No, I'm planning on being happy with it. (laughs) I'm an optimist. I really want to be happy.
Now – what can YOU do to aid The Hero Initiative? Of course you can donate directly. You can also stop by their booth at a local comics convention.
Let us know what you think, via email, Facebook, or Twitter @FanboyPlanet.