Comic-Con 2011:
REGISTERING FOR 2012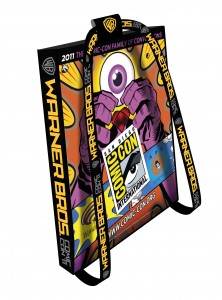 With Comic-Con 2011 less than a week away, it's hard to look ahead an entire year. But we also know how quickly THIS year's Con sold out, so for those sitting at home muttering "next year..." this will be good to know. And for those packing their suitcases now, this is REALLY good to know.
And it's also good to know that next year, Comic-Con will be held a week earlier -- July 12-15! Holy crap, that's even less time to prepare!
Last night The Beat reported that pre-registration for 2012 will be in the Douglas Pavilion at the Manchester Hyatt, the hotel adjoining the San Diego Convention Center. Pre-registration availability will be Thursday through Sunday, from 9 a.m. to 11 a.m.
Not all the badges for 2012 will be sold there; Comic-Con is holding some back for online sales later. (That "later" has not been specified yet.) Last year all the Preview Night badges sold out at the Con, but from the comments made by CCI Director of Marketing & PR David Glanzer, it sounds as if they're considering holding back a few of those as well.
Prices for next year (at least for next week's on-site registration) are:
4-day with Preview Night — $175
4 day without Preview Night — $150
4 day Junior ((ages 12–17) and Senior (60 and older) and military badges with previews night — $87
Ditto without Preview Night — $75
1-day pass — $40
1 day pass for juniors, seniors and military — $20
Sunday only — $23
Sunday only juniors, seniors and military — $11.
Phew. Time to start calendaring...