Comic-Con 2010:
From Dusk 'Til Con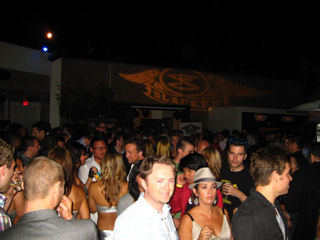 Over the years, Comic-Con has increased in more than just size. Once the sun goes down, the social options also multiply, and not just because of the great restaurants and clubs in the Gaslamp District.
Okay, actually, it is partially because of those, because in the past couple of years, Comic-Con presenters have figured out that it's one thing to gather people in a stuffy convention room and tell them about stuff they'll like; it's another thing entirely to tell them and then let them party.
So our own David Tapia co-ordinated knowledge of all parties. Entertainment Weekly had one, G4 sponsored one, Magnet had one, Robert Rodriguez even had one in a parking lot to celebrate Machete.
But the crème de la crème a la Edgar (Wright, of course) had to be the party dubbed "Poynt Presents From Dusk 'Til Con" on Friday night. The party existed thanks to the largesse of Poynt, an all-in-one search app for iPhones and Blackberries (and lord, next year they might want to develop a special localized version just for navigating the convention floor).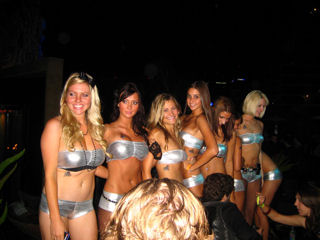 To help those not familiar with Poynt, the company provided beautiful young women in silver outfits to answer any questions. Granted, it was hard to formulate coherent thoughts when faced with these ladies, but they were quite comprehensive.
However, they did not party alone. "From Dusk 'Til Con" also featured sponsorship by Starz and Anchor Bay Entertainmentfor Spartacus: Blood and Sand, which has an impending home video release in September, and thus many gladiators wandered the red carpet and rooftop of Stingaree in the heart of the Gaslamp. (Even the choice of venue is perfect for Comic-Con attendees - Captain Stingaree being an old Batman villain.)
With Starz and Poynt came AMC Theaters, which provided popcorn and other assorted movie snacks to accompany the libations served from strategically located bars around the party. Their presence also signaled the first annual "AMC Film Fanatics Award," given to creators who sum up what the modern Comic-Con is about.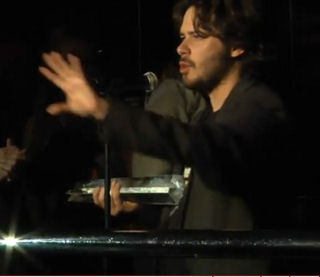 AMC Script-to-Screen manager John Campea first presented the award to Edgar Wright, director of Scott Pilgrim vs. the World, the film second only to TRON: Legacy in buzz at the convention. Wright absolutely deserves this kind of recognition, not only as director of Shaun of the Dead and Hot Fuzz, but as co-creator of the first sitcom to get fandom absolutely right, Spaced.
Facing down a throng of cheering partygoers, Wright accepted the award enthusiastically. He gave a short speech before everyone had to disperse and head back up to the rooftop for the other recipient, Stan Lee.
Well, folks, that one's a no-brainer. Some have described Stan as our modern Homer, but that was Tom Kenny talking years ago. Hyperbole aside, Stan is one of the mast storytellers of our time, and we should all be so lucky as to still be vital and creative at the age of 87. Let's face it: most of us will be lucky just to be at the age of 87.
Yet here was Stan, relaxing in one of Stingaree's rooftop bungalows late into the evening after a long day of convention appearances. (Again, no hyperbole: Stan was everywhere at the Con every day.) Pulling away from the beautiful young women competing for his attention, Stan accepted the second award, and perhaps they should have reversed the order of presentations for this alone: without Stan, it's doubtful there would be a Comic-Con.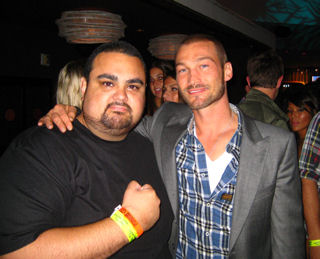 And then the mingling could continue without interruption. With an eclectic mix of pop, rock and television theme songs, DJ Party Ben set the right background tone, and inevitably, dancing broke out under the logo for Slacker , led by the Joss Whedon crew - Joss himself, Nathan Fillion and Felicia Day.
On the other side of the patio lounged the cast members from Spartacus, including star Andy Whitfield, looking well after some health problems that have delayed the filming of the second season.
Actors from several different series showed up, including the cast of Chuck and James Frain from True Blood. Jason Schwartzman and Brandon Routh appeared to support their director Edgar Wright. From Syfy, Christopher Judge (Stargate: SG-1) arrived early to chat with fans. Eureka's Colin Ferguson and Neil Grayston accompanied Warehouse 13's Allison Scagliotti. Of course, those two shows will be crossing over next week, so why not cross over at a party? (It turns out that Felicia Day will be appearing on Eureka as well, which she announced at Comic-Con.)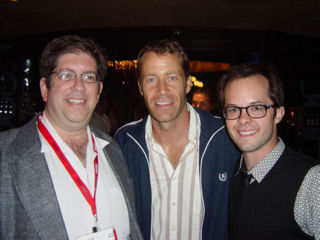 I bet Ferguson that Stan would outlast him at the party, but it's a sucker bet. When it comes to Comic-Con, Stan will outlast us all, still announcing new projects.
For me, one of the biggest stealth announcements was the presence of concept art from Mortal Souls, a movie going into production next year under the eye of Shane Riches, our host and party producer through Poor Dog Entertainment. Based on an Avatar comic book by Steven Grant, it's a clever and creepy reverse-zombie story. Having read the book years ago, I'm very excited by this one.
In addition to producing Mortal Souls, Riches also will co-write RPM with the great Mick Foley, while still shepherding Keith Champagne's Death Valley graphic novel through IDW. Hmmm… Stan might have some competition after all.
Nope. Sorry, Shane, I can't go that far.