Flynn Lives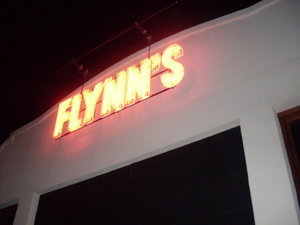 A bright beacon in the San Diego night...

"Long time listener, first time caller."

That was me at this year's San Diego ComicCon. I rolled into San Diego with little concept as to what was going on other than nerd lore and sleep deprived coverage on websites like this. Now through the egalitarian magic of the web I've joined those half-mad sages and soothsayers of borderland geekery to bring you this tale I weave from the safety of my Hollywood bungalow with a tumbler of Jack close at hand.

Just two notes were in my notebook when I hit the (619). The only one I got around to using read "Meet us at the cul-de-sac near the corner of 1st and J, Thurs 9:30pm, Tron 2.0."

This info had come from far too much free time at a law office temp job the first half of the week and a lot of billable hours spent on various nerd blogs. A few had received mysterious arcade tokens for Flynn's Arcade "Home of Tron" and USB sticks that through the magic of cooperation led to www.flynnlives.com. The message came directly from the site and the time a countdown timer and my uncanny ability to sling, as my Welsh friends say, maths.

A later check of the site from the Con floor revealed my maths were indeed uncanny as they had changed the message to indicate Thursday at 930pm by name instead of trusting something as nimbly-pimbly timey-wimey as a clock.

After a cheap-yet-tasty burrito at a taco stand and some free-yet-cold beers at a mixer where I was a lovely industry professional's arm candy, we lit out for the cul-de-sac, but only after quoting The 'burbs' Dick Miller, "I hate cul-de-sacs. There's only one way out, and the people are kind of weird."

We got there about a half hour early which in Comic-Con parlance means an hour or so late and the line was already forming at a table. We were sent to the end of line, but not before one of the "Flynn Lives" shirted street team members let the cat out of the bag asking if we were here for the scavenger hunt. At the back of the line there was a buzz and we began to accumulate clueless passersby sucked in by an assumption of free gear and speculation ran wild.

Once the hour was at hand and the herd began to move, we were asked to sign waivers which none of us read before filling out to receive intriguingly heavy packets. Inside was the main item I'd hoped for, a shiny (both in the old-fashioned and Serenity ways) token from Flynn's.

Not only that, but a map of the vicinity with the blocks that were in play marked, some instructions, a vellum overlay with a grid and other note taking areas as well as a nifty combo torch (not another shoutout to my Welsh friends, but actually what the switch label said) and blacklight. Just the thing to make my DNA-rich hotel bedspread light up like a velvet unicorn poster!

About that time we teamed up with a buddy and his wife for little of that teamwork my soccer coach always seemed to be on about. We all had seen a couple of Flynn Lives posters in various windows earlier in the day and broke into the Dr. Who dash for our first clues.

We found a pair of posters and no one in sight in the windows of a closed store front. We got all CSI on the posters and soon learned we had located 1 of 3. Some more searching over the handbills with our black lights revealed tiny letter/number pairs. While two of us called out our data and the other two recorded (just like Junior year chemistry!) a voice from above my crouched position would lead to the biggest lesson I learned at my first Comic-Con.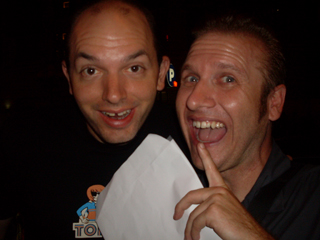 Make new friends at Comic-Con!

"What do we have here?" I turned to drop some puzzle solving science on a fellow traveler when one of our group recognized him and asked if we knew him from somewhere. I glanced up, told her that it was TV's Paul Scheer, shook his hand, told him I was a fan, and then returned to the task at hand while explaining how things were shaping up. I mention this not in a lameass I met a famous person way, but to explain part of what I found to like about Comic-Con.

Here we were running around the Gaslamp Quarter and instead of hitting hot bars or fine dining we were shouting out co-ordinates revealed by black light from posters hyping the release of the sequel to a 27-year-old Disney movie about video games.

Even in a life that has included such activities as memorizing Steve Martin albums, reading comic books, and modding pez dispensers, this was one of my nerdiest moments ever and I was loving it. Not only that, but then there was this other guy who creates some of that nerd culture through things like Human Giant and 30 Rock not calling his manager to get him on a list for this event or whatever, but running around just like us being a huge nerd and we were all cool with that. Forget Mythbusters tote bags and Prisoner buttons; this is what it is all about.

Once we've relieved poster 1 of its secrets, Mr. Scheer hips us to the locale of a 3 he had found and we head that way. We scan and record the new info from that poster and some folk offer to trade info with us. It turns out they don't have Poster 2 so we point them to Poster 1 and leave them behind. It may be about the geek glue that binds us together, but it's also about the thrill of the game and the challenge of the puzzle.