Comic-Con 2009:
Doctor Who - Looking At Past, Present and Future
Before the End of Time...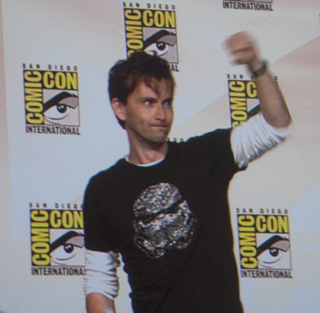 David Tennant greets his first Comic-Con crowd...

"Good morning, class, and welcome to Doctor Who 101."

No normal eighteen-year-old would arrive at school three hours early for a lecture—unless the lecture hall was the grand Ballroom 20 in the San Diego Convention Center, and the main speaker happened to be the Doctor. Just "The Doctor".

For his very first appearance at Comic-Con, David Tennant was given a proper superstar's welcome, complete with a standing ovation, thousands of screaming fans, and multiple declarations of undying love throughout the panel.

After about the tenth "We Love You!" interruption, David playfully responded, "We love YOU. Each one of you in a slightly different individual way. I want you to know that."

Sunday's panel was filled with other fun moments, in addition to the expected nostalgia as David Tennant, Russell T. Davies, Julie Gardner, and Euros Lyn looked back on their work in the show. Plans for the future were also discussed, beginning with the widely spread rumor of a movie.

Right off the bat, Julie Gardner and Russell T. Davies gave an announcement regarding the Doctor Who feature film: "We don't have one." The crowd awwwwed in disappointment as Julie explained how she didn't know where the rumor started.

"But," Julie continued, "it's made us think that it might be a good idea to do it at some point. Is this something you'd like?" Oh yes, definitely yes. I don't particularly like all the teasing over the possibility of a Who movie—but I can't deny that I really, really want more of David Tennant as the Doctor, especially if he's super-sized on the silver screen.

Once the movie rumors were dismissed, we were treated to a preview of the final episodes of the Tenth Doctor. Underscored by slow metal clanking, a grave voice (Timothy Dalton) speaks of how everyone had a bad dream in the final days of planet Earth. Maniacally laughing faces flash across the screen, followed by the Doctor looking around worriedly, a man in a black suit, and—SPOILERS AHEAD!—Wilf, Ood Sigma, Donna's mother, and to everyone's delight, Donna Noble herself.

If that wasn't enough to get you excited, we then see the back of a lone dark figure with a simple hooded sweatshirt. The clanking speeds up with images of a woman screaming, a red-eyed Ood, and more anxious faces. The Doctor is seen approaching the dark figure. Suddenly the frantic clanking stops… and then a whisper: "He returns!" The hood comes off and the figure reveals himself. "My name is the Master." Screaming. Lots of screaming. An ominous shot of the Doctor walking in front of fire precedes the equally ominous title: "The End of Time. Christmas 2009."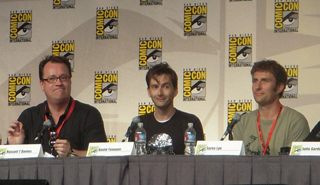 "Show the clip again!"

Amidst quickly flashing images, frenzied clanking metal, the crowd's wild reactions, it would take a great deal of concentration to absorb everything in that trailer. David Tennant thought the exact same thing and insisted that they show the clip again. Everyone laughed and roared in approval.

The moderator asked some questions about the cultural impact of Doctor Who in the United Kingdom and how Russell T. Davies came about reviving the show for a modern audience. Russell commented how Doctor Who was so ingrained in the British consciousness, that it only seemed right to bring it back. Julie and David expressed their astonishment over Doctor Who's popularity in the United States specifically. "They told us no one watches the show over here." In general, they were all gobsmacked by the show's immense success. After four years as the Doctor, David is still a little weirded out at seeing his face on a cake.

After the moderator's questions, the Guinness Book of World Records presented an award for Most Successful Science Fiction Show of All Time. "It is too good a show to have just the longest running record," said Craig Glenday, editor-in-chief. Once they counted up things like "DVD sales, book sales, downloads, iPlayer [BBC] downloads, illegal downloads, we realized that Doctor Who is the most successful sci-fi show on TV."

Russell accepted the award humorously, worrying about a possible Comic-Con war over the award, then taunting with "Eat that, Supernatural. Eat me, Supernatural – oh, did I really just say that?" He went on to dedicate the award to Verity Lambert, the late founding producer of Doctor Who, and praised her for all the work she put into launching the show.

The Q&A portion had some of the usual inquiries: "Which Doctor would you want to be? Which assistant did you like best? What was your most memorable moment on the set?" David gave the traditional, political answers to those questions about favorite episodes and assistants and past Doctors, explaining that "it genuinely feels like choosing between your children. It feels wrong."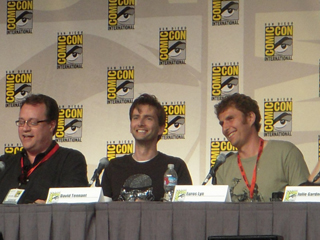 They WANT to make us cry.

The responses became more engaging when the panel reminisced about their personal Doctor Who experiences. One audience member asked the panel how they dealt with the regeneration of their first Doctor and if they had any advice on how to handle that trauma. Russell remembered watching William Hartnell, the first Doctor, change into Patrick Troughton, a scene that is missing in the archives. "As for the trauma coming up for you, that is quite fearsome and horrific," warned Russell. Oh dear. Euros Lyn, the director of the final episodes, revealed that while watching the last twenty minutes of the finale, Who musical composer Murray Gold started shaking and sobbing uncontrollably into his hands. I would have laughed more at this, if it wasn't for the chorus of "Oh noooo" ringing through the room. I've gone through many a tissue box because of Doctor Who, and Euros' warning means I'm probably going to have to start stocking up NOW.

Russell followed up with one hint about the impending doom. "He will knock four times."

"DON'T ANSWER IT!" a fan yelled desperately.

David said he couldn't conceive of what it would be like without Tom Baker—and then Peter Davidson came along. "Within three weeks, I thought he was the best," admitted David. He seemed to be preparing us fans for when Matt Smith eventually takes his place as the Doctor. Change is part of the show, and our ability to accept that change is what keeps a show like Doctor Who alive.

From that point, the panel became pure fun. One fan mentioned hearing that John Barrowman has stolen things from the Doctor Who set and wondered if any of the guests had stolen anything for themselves. Julie joked, "I think John Barrowman just stole things off the set so he could be strip-searched on the way out." At least I think it was a joke. David did reveal that one of the Doctor's jackets, which becomes "compromised" in the final episodes, did go missing during production.

When asked about certain upcoming projects, David replied, "There's a new rumor every day at Comic-Con. Apparently I'm playing the Hobbit. Though I haven't got a phone call." This particular one prompted the audience to shout suggestions, like Harry Potter (he kindly reminded them that he died in Harry Potter), James Bond (already taken), and the Riddler.

In regards to the possibility of returning as the Doctor in a charity event or a movie, David could only say, "Who knows? I think the dust has to settle, but…it's the fiftieth anniversary in 2013, isn't it? I don't know." Just after he smiled and shrugged his shoulders and the cheers grow louder, David quickly added, "That's not me making an announcement! NO! No plans. Don't Twitter that!" Oops. Too late. (I plead not guilty!) "That's not a thing… Yet." Such a tease.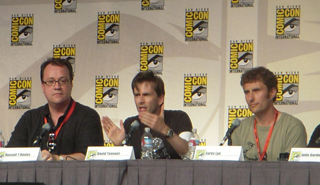 Discussing Billie Piper's attributes...

The enthusiasm and energy of the panel only grew more vibrant. A fan talked about David being the fastest Doctor on four wheels, referring to his appearance on Top Gear. David admitted to still holding a grudge against Billie Piper for beating him on the leader board by just 0.2 seconds. He quipped that he's only behind Billie Piper because she was wearing a see-through top. "And if Billie Piper didn't have such great breasts, I would be higher up [the leader board]."

One of the more touching moments of the panel was when David was asked about his favorite Doctor Who moment, not as an actor but as a longtime fan of the series. In his very first read-through upon getting the role, David was terrified of the idea that everyone who had ever worked for the BBC would turn up at the read-through. "I kept thinking I caught Jimmy Nesbitt out of the corner of my eye, Michael Sheen having a cup of coffee… The replacements are lining up," he joked.

"And suddenly, halfway through ["School Reunion"], this voice from my childhood was calling me 'Doctor'." David recalled how special it was to have the eight-year-old boy meet his thirty-five year old self. "Suddenly he wasn't in the playground anymore, but was doing it for real—yet was still being called 'the Doctor' by Sarah Jane."

Turning towards Who's future, a fan asked David if he had any words of wisdom for Matt Smith, who will soon debut as the eleventh Doctor. David had chatted with Matt a few times and concluded that Matt didn't really need any advice from him in particular. He described Matt as very enthusiastic, and everybody in Britain who had worked with Matt has nothing but praise for him.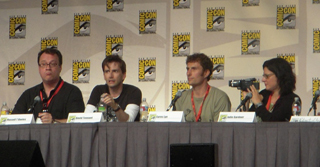 Clearly, Julie has begun filming the movie...
Not that that's a thing...

"He's quite clearly going to be brilliant," David said with all honesty. From I've seen of Matt Smith's Doctor, he definitely has the oddness of the character (minus the iffy hair from previous promotional photos), what with the bowtie paired with matching suspenders, a tweed jacket with elbow patches, rolled up trousers, and boots. Reminds me of a quirky science teacher.

If Matt Smith turns out to be as promising and talented as the panel suggests, and as amusing and energetic as his outfit looks, then I won't mind graduating from the Tenth and moving on to lessons with the Eleventh. It may be challenging to deal with the new faces—Smith replacing Tennant and Steven Moffat taking over Davies as the head writer—but as a student of the Doctor Who universe, you need to accept these kinds of changes, or else you won't be able to fully enjoy the experience. And not to brag or anything, but I'm a pretty good student.