Comic-Con 2009:
Ed Brubaker's Angel of Death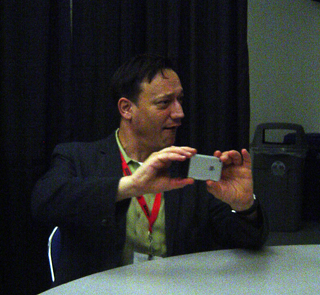 Ted Raimi the Mighty
As the stars of Angel of Death walk into the room, the air fills with the sound of camera clicks. Even digital, they still have that strange shuttering sound. So Ted Raimi whips out his camera and starts shooting back. "See how YOU like it!" he says with a smirk. "I'm going to Twitter this right now!"
Zoe Bell and Doug Jones just laugh. This trio clearly has a lot of affection for each other, smiles and teasing coming easily. You'd never know they're here to promote a taut and violent action piece starring Bell as an assassin haunted by her amoral past.
For Raimi, it was a lark. Already a well-established character actor, his brief moments in Angel of Death won't mean much in the greater arc of his career. But for Bell and Jones, this marks a turning point of sorts. Both are Hollywood pros transitioning into a new phase. As Eve, Bell continues her journey from top stuntwoman to action star and perhaps more conventional leading lady. Jones, master of his lanky physicality, gets the rare chance to show what a gifted actor he is without hiding behind latex or CG effects.
"When you have a career of twenty-three years under prosthetic rubber," Jones says affably, "to take that off and to come out on film like this is rather a vulnerable feeling. The difference is like walking out of the house in a sweater, and walking out of the house in a Speedo. Both are legal, but in the Speedo you're like oh, gosh, are the neighbors watching me? But then you get to the pool and everything's okay. That's what it's like for me."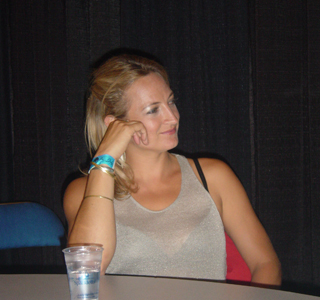 Zoe Bell knows Ted will be Ted.

"I know that analogy!" Bell agrees, her soft New Zealand accent giving her anxiety a lilt. "It was like that working with Lucy (Lawless)…in three or four years of Xena we were rarely on the set together, and then suddenly she's (in a scene) kneeling down with a pair of pliers and I'm thinking 'when did this happen?'"

She pauses, then continues, "I don't want to get all mushy about it, like 'she taught me everything I know.' It's not… I was her stuntwoman. She wasn't giving me acting lessons when I was 18. But I watched her on set and I really appreciated and respected the way she was on set, and I think that translated to me as a professional."

They shot swiftly under director Paul Etheredge, a production of three weeks with a budget of, as Bell puts it with a pinky to her mouth, "one meeeeellion dollars." Raimi jumps in to note that it was the most Sony had ever spent on an internet production, as Angel of Death began as a serial on Crackle.com. The studio had expected one million viewers, but Raimi proudly adds, "as it happens, they got five million."

"And it felt like a real movie," Jones says, helping Bell as she articulates the differences between this and other shoots she has worked. She finally just laughs, "we had a lot of really talented people for really cheap!"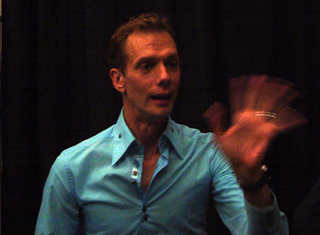 Doug Jones: "...you get to the pool and everything's okay!"

Raimi also notes that the money seemed to make it to the set. "Look! Real craft services!" he jokes, causing rueful laughs from both Bell and Jones as they remember other productions. Jones sighs with relief, "and we had trailers instead of gas station bathrooms."

This sparks a nod from Bell. "That's the joy of casting someone like me in the lead," she says, "instead of someone who has a name. The money that might be going to my pocket actually goes to craft services. And I'm glad that it did, because I'm a big fan of eating and water… I love free water."

Of course, it wasn't just the free food that brought these three to the project. For Raimi, it was simple. "The first A.D. (Assistant Director) called me up, she's an old friend of mine, and said 'there's a movie I hope you'll do. My movie.'" He laughs, "What do I do? She says, 'you come in for a day, you get tied up you're in a trunk, and then Zoe Bell blows your brains out.' I said, 'it sounds like every day I worked on Xena. Sure I'll do that.'"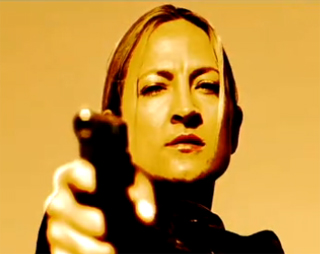 Zoe was very serious about this role.

Bell reminisces, "When I went to the first meeting with the people that were already involved, I walked out and went 'holy s**t, that's the kind of thing I want to be involved in.'

"I want to be involved in something where the character's fascinating, the storyline is clever, the people involved are smart and passionate and genuinely want this thing to happen in the same way I feel about it. Whether it's TV or movies or web was irrelevant to me."

She wanted this role so much she enlisted an acting coach to help her tap into the necessary resources for Eve. Once she got past the audition, the project still daunted her.

"My first day of shooting was the scene with Ted in it," offers Bell. "I was feeling the challenge and the pressure of the first day of leading this thing, just knowing that he was going to be on the set put me at ease and it felt familiar."

The two smile at each other, and Raimi turns to us. "What's gratifying for me to see after so many years is that she carries a picture really well. She has wonderful leading lady qualities and she's going to be a big star, I think. Enjoy this one on one with her while you can!"

Everybody laughs. It's hard to imagine any of them putting on airs. Bell scoffs at the thought, "Oh, yeah, Shakespeare is next. I'm going straight to King Lear. I'm gonna be King Lear."

She turns serious. "I think for me, action is obviously something I'm comfortable with, and I love it. I'm not unhappy with that being a prospect. I just feel there's a niche there that wasn't before."

"But I love the idea of comedy, comedy totally appeals to me. After Angel of Death, I'd love to do more Drama."

"I'm open to anything, but I understand that to build a reputation and less of a risk factor for the people that are putting money in, action's where it's going to start for me and I'm hardly going to complain about that."

After Angel of Death, Raimi's prediction doesn't seem that far-fetched, and let's throw in that Jones' opportunities should be growing, too. Angel of Death is now available on DVD.