Four Stories. One Ticking Clock. Dead Drop.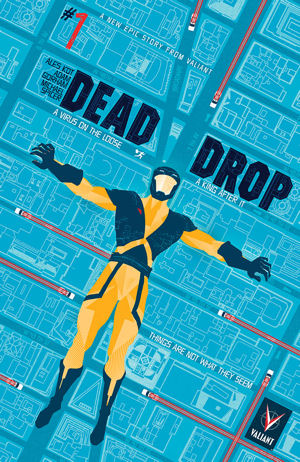 Oh, we admit it. We were late to the Valiant bandwagon, remembering fun stories from the 90s and admiring the revival from afar. That was our mistake. Because this company is delivering some of the best comics out there -- taking superheroes and giving them a real world grounding that still leaves room for action and escapism.
I'm currently going through Harbinger and Bloodshot, but I know that X-O Manowar was a favorite of Ric's -- this crossover will be right up his alley -- and yours, too!
You can find this in your local comics shop on May 6!
From Valiant:
Four issues. Four stories. One ticking clock! Red-hot writer Ales Kot (Bucky Barnes: The Winter Soldier) and rising star Adam Gorham (Zero) start the countdown to DEAD DROP as an unlikely cast of superhuman operators fall in deep for an undercover conspiracy action thriller in the darkest corners of the Valiant Universe…
There is a secret black market in New York. It is hidden in plain sight – in our streets, trains, restaurants. Those who know how to navigate it exchange secrets of extraordinary nature.
But when the secret in circulation is a biological weapon derived from Vine technology, the gloves are off – and the most extraordinary agents are released to stop the disaster before it occurs. Otherwise, in less than thirty minutes, there will be no world to come back to. X-O Manowar, Archer, Neville Alcott, Detective Cejudo and Betamax are ready to save the world.
DEAD DROP #1 (of 4)
Written by ALES KOT
Art by ADAM GORHAM
Cover A by RAUL ALLEN (MAR151581)
Cover B by ADAM GORHAM (MAR151582)
Cover C by JUAN JOSÉ RYP (MAR151583)
Cover D by BRIAN LEVEL (MAR151584)