Strangers In Paradise Comes To Thrillbent

I find this an interesting switch -- Thrillbent, the site (and app) that Mark Waid and John Rogers launched four years ago to serialize digital comics, is pulling from the great comics' archive for "new" content. Usually, it's been the other way around, with IDW currently publishing Waid and Barry Kitson's Empire after its serialization on Thrillbent, and Dark Horse Comics gathering Aw Yeah Comics.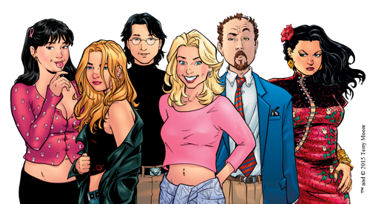 However it may be, seeing Terry Moore's Strangers in Paradise find a new venue and a new audience is a good thing. There's a reason it's regarded as classic, and was critically acclaimed the first time around.
From Thrillbent:
Award-winning writer/artist Terry Moore, creator of Strangers In Paradise, one of the medium's most acclaimed and honored comics series, brings his long-running masterpiece to Mark Waid and John Rogers' Thrillbent digital comics site beginning Friday, July 3.
Strangers In Paradise's 107-issue epic, a groundbreaking romantic thriller focused on the complex relationship between its two female leads, won the Eisner Award in 1996 and the GLAAD Award in 2008. It will be serialized weekly over the next two years from its very beginning for Thrillbent subscribers as part of the site's continually updated library of content from comics' top creators. There, Strangers In Paradise joins Mark Waid and Barry Kitson's Empire (returning July 1), James Tynion and Jeremy Rock's The Eighth Seal, Alex De Campi and Christine Larsen's Valentine, Seanan McGuire and Erica Henderson's The Best Thing, and dozens of others groundbreaking series and short stories.
"Thrillbent has perfected the online subscription service for comics, and there is no better place to bring new readers to Strangers In Paradise," said Moore, founder of Abstract Studio. "Abstract is excited to be a part of their catalog and we look forward to working with the Thrillbent team to provide easy, affordable access to SiP." Despite an attempted intervention by his handlers, Moore concluded his statement with the questionable phrase, "Oh, and Mark Waid is cool."
A leader in online digital comics content, Thrillbent offers a constantly updated back catalog of exciting new creator-owned comics, specializing in horror, science-fiction, comedy, and young-adult fantasy. For the price of one monthly print comic, subscribers can deep-dive through Thrillbent's library through its web portal Thrillbent.com or through its iPad app, where new installments of its serials Empire, Albert the Alien, Spacebat and many others are updated weekly.
Look for additional Thrillbent announcements by visiting www.thrillbent.com and by following Thrillbent on Facebook and Twitter @Thrillbent. For more information, email info@thrillbent.com
Let us know what you think, via email, Facebook, or Twitter @FanboyPlanet.