Herobear and the Kid: The Inheritance
If you've been a comic book fan for quite some time, it's a little harder to remember those instances where, while reading a comic, you fell completely in love with the medium. Believe it or no, it happens more than once.
I remember reading a borrowed copy (from a high school history teacher no less) of Watchmen , finishing it, and reading it all over again in the same night, learning that superheroes could be more than they usually were. I remember reading Pedro and Me and afterward realizing the power, relevance, and emotion that comics could convey. And I definitely remember when Scott McCloud demonstrated how very little I knew about my favorite literature genre in Understanding Comics .
These moments are the ones that stick with the fan-person and though the memory may get fuzzy, you never forget that warm satisfaction of reading something entirely worthwhile.
Thanks to Mike Kunkel I now have a new moment to add to my list: the first time I read Herobear and the Kid and remembered, with clarity, what it was like to be a kid.
Tyler's grandfather has recently passed away and left his home to Tyler and his family. Along with his home, he has left Tyler a very special gift: a small, stuffed, toy polar bear. This is hardly the kind of thing a respectable 10 year old could be caught carrying around, but thanks to the interfering ways of Tyler's younger sister Katie, the bear makes its way onto the playground.
After a typical first day chalk full of bullies, new friends, and "a vision of beauty" named Vanessa, Tyler retrieves his bear from his sister. After a nasty walloping from said bullies, Tyler takes his frustrations out on the hapless bear, giving it a right good kick in the nose. Seconds and one special effects sequence later, there is ten-foot polar bear wearing a red cape standing in front of him.
His name is Herobear and he is a superhero, and surprisingly NOT a figment of Tyler's very active imagination. Made to come on the first adventure, Tyler throws on a towel and some goggles, adopts the apt moniker "The Kid," and finds the joy of flying with Herobear and fighting crime (and robots) is one of the greatest experiences of his life.
Now all Tyler has to do is avoid bullies, defeat the schemes of an evil-genius-toy-maker, keep his new sub-arctic friend under wraps, and figure out how his late Grandfather fits into the whole situation. Not an easy job for a ten-year old, but I think he'll somehow manage with the help of a certain ursine pal.
Kunkel came out of nowhere with this comic. He'd originally worked in animation for Warner Brothers, Disney, and Sony as a director, animator and story artist. It's as if he sat down one day and said, "Today's the day I write a comic." And he did. And he won an Eisner Award for it.
Kunkel's story is first rate. In the Calvin and Hobbes tradition, Kunkel manages to nail down the mind of ten-year old perfectly: Tyler's daydreams are fully formed stories in and of themselves as he imagines himself and his classmates into a bevy of situations, ranging from superhero hijinks to a funny rendition of The Bride of Frankenstein.
And damn if the story doesn't have a massive amount of heart. At the beginning of each chapter, Tyler (narrating from a much older perspective) reminds the reader about the fundamentals of childhood: the way time passed differently, the power that a child's belief could hold, among other fundamentals. What's more, Kunkel then ties these themes into the core of each chapter, creating a beautifully layered overall story.
The opening scene of the book (the very touching funeral of Tyler's grandfather) is still the one that makes me wish more comic book writers and artists could convey emotion in the panel as fluidly as Kunkel does. I've seen maybe a dozen splash pages of Batman draped over his parents grave, but it's never held the depth that this simple three page scene of Tyler's family saying goodbye holds.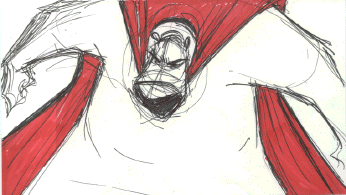 The art is also a shining example of what can be accomplished in comics when the creator is thinking outside the box. Kunkel's artwork isn't inked or digitally refined. In fact, all the artwork has the face lines and wire frame lines left in. It's like watching a pencil line preview of an animated film, and the style works fantastically well with the story. Kunkel's characters have the full range of emotional expression, and Tyler isn't just "word balloon funny" but physically funny as well. Kunkel provides as much visual storytelling as he does narrative, making this a perfect hybridization of comics and animation art styles.
And there is something to be said for the expert pacing on this book. Too often in comics, we get too much information crammed into a single issue that makes for crowded reading, but Kunkel knows how to pace a story so that it seems like a leisurely read, without being boring (another byproduct of his animation background).
Now, here I've gone on and gushed and you're thinking, "Sparling found all this wholesome goodness for a really cheap price, 'cause we know he don't like spending money!" Nope. Sorry.
This is a hardcover, dust jacketed, oversized edition that collects the first five issues of Herobear and The Kid that includes two introductions (Producer Don Hahn and Jeph Loeb), blurbs about HTK from some of comics' great creators (Terry Moore, Scott Morse, etc x 10) in between chapters, a sketchbook section, a "How To" on how Kunkel created HTK, a pin up section, and a fan art section. Oh, and did I mention the animated cell of Herobear and Tyler flying?
This book is packed and high quality, and because of that, it's $49.95. Not cheap I know, but that's what Astonish Comics is charging. But there's deals to be made, ladies and gents: go out to the comic store and haggle like it's going out of style, check the e-bay auctions, sell a kidney (you only need one you pansies), but find a way to get this book. It's the kind of book you can read again and again, save for years, and then give it to your children and say, "This is why comics are good."

Herobear and the Kid: The Inheritance (regular paperback edition that Rob didn't buy)