A Fanboy in New York - Part 2: DC Comics
So, after spending the morning visiting with the editors at Marvel Comics, what do you do for fun in the afternoon? Head uptown and meet some folks at the DC Nation Headquarters. While both visits were great fun, impressive, and the dream of any fanboy, there were distinct differences between experiences. Where I couldn't take any pictures at Marvel, I was encouraged to do so in the hallways of DC. But where I got to sit down with editors and staff at Marvel and record interviews about comics, upcoming projects, and the love of the art, I had only brief meetings that we couldn't record at DC. But more on that later.
Arriving at 1700 Broadway, you simply have to take a step back and gaze at the huge office office building that houses DC.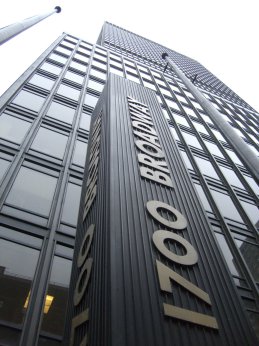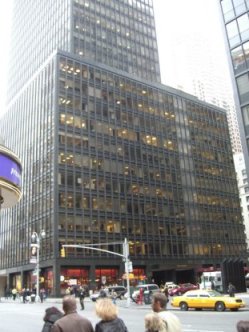 Passing into the lobby, you see the first hint that you're approaching a legendary locale.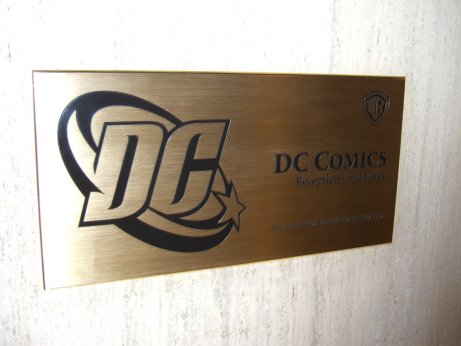 It's a short elevator ride to the 7th floor, and the wonderment really begins. The floors are themed, with the first stop being Metropolis. Superman is gliding down into the waiting room, with some convenient telephone booths at hand. Colors are vibrant, evoking the hum and bustle of the modern city.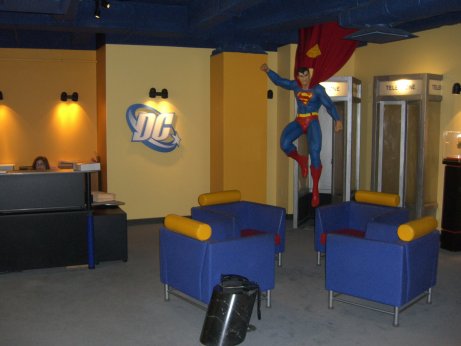 I was met by Alex Segura, Publicity Manager for DC. I'd met Alex briefly at WonderCon in San Francisco, and he was a great tour guide through the offices pointing out many cool points. For example, paralleling the Metropolis themed floor, there is of course a Gotham City floor complete with working Bat Signal.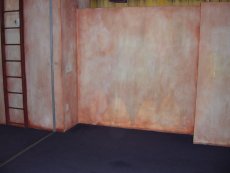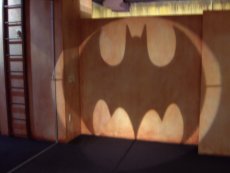 Beside a spinner rack of new comics, we spotted writer and commentator Buddy Scalera (Deadpool, 7 Days To Fame) stocking up!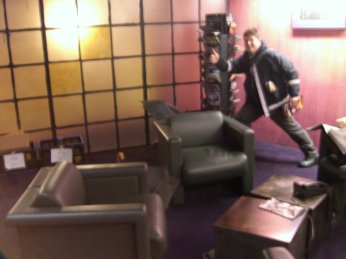 While the Marvel offices had a chaotic energy to them, the DC offices came across very polished and stately. For example this boardroom style planning room.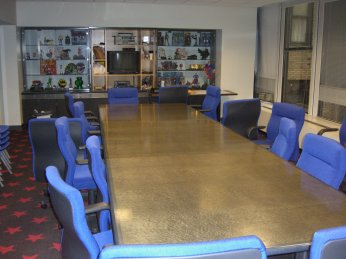 And of course, I had to take a closer look at all the toys in those cabinets... DC Direct makes some really nice stuff!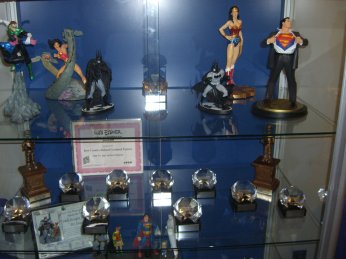 Leaving the conference room we paused by the elevator to admire a mural of DC's most famous characters -- and then some.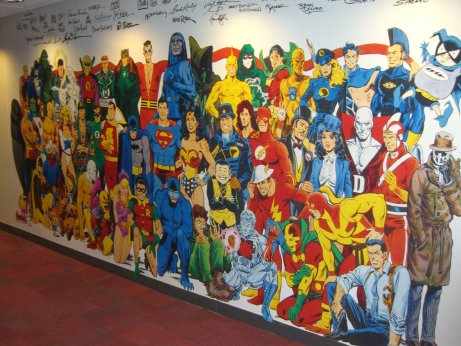 Note the nice "guide to who's who" illustration for those who aren't as fanatical as we all are!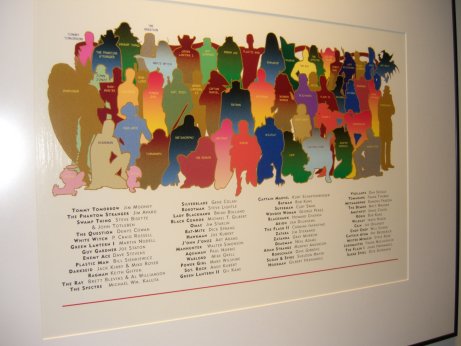 And then there is the hallway of retired logos. No kidding, this was only a small sampling!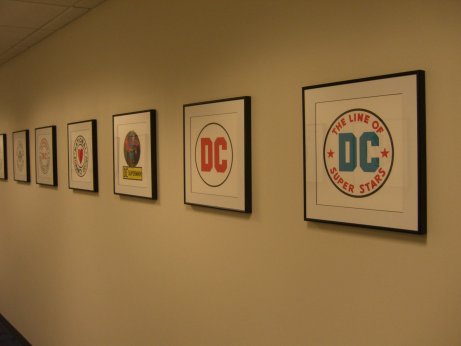 And finally, we ran into everyone's favorite mild mannered reporter in another conference room. Apparently this guy is always tying up the phone with some breaking story or another...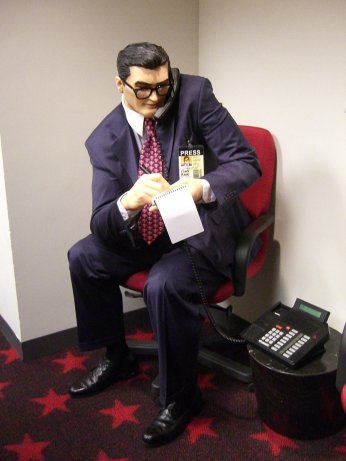 Yes, a great tour, but it didn't stop there. Even though my last minute planning hadn't given our hosts enough time to set up proper interviews, Alex did make it possible for me to drop by and shake hands with Dan DiDio. Dan's a great guy, funny, with terrific energy about his work. We're hoping we can set up a real interview with him for the Fanboy Planet Podcast in the near future.
But then there was the ultimate visit. Alex took me up to a huge corner office to meet another mild-mannered guy who was wearing, and I'm not exaggerating at all here, a Superman logo sweatshirt. We sat down with DC Comics President Paul Levitz to chat for a few of his very precious minutes. Discussing old issues of the Legion of Superheroes, Jack Kirby, and how he had gone about producing The Comic Reader way back when... it was a magic time. Paul exudes a love of comics and the industry that was simply unmatched in our experience. If we're really really lucky, we'll talk with him again some time.
Thanks DC! And thanks Marvel! Our fanboy faith was rewarded.