The Other Side of ComicCon:
notes from Mish'al Samman
If you've been reading this site the past week, you know that we've been neck-deep in geekiness (and the glory of it) in San Diego. Our resident manga and Star Wars expert, not to mention our loosest cannon, Mish'al Samman ran wild, and it is only as of today that we are able to piece together his garbled transmissions.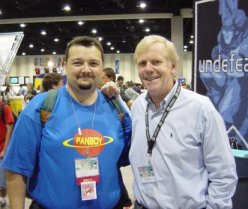 Damn. All my punchlines were too mean.
(l. Mish'al Samman, r. Jeremy Bulloch)

While in San Diego, all we really knew of him were text messages at 2 a.m. But now, the first report:

In case you aren't at the con, and think you're not into comics, please reconsider. The ComicCon is so much more than just comics. It's everything you've ever seen as a child (or a grown up child) meshed into one fun experience.

The influence of manga and anime is overwhelming, and caught even me, a fan of the forms, by surprise. Last year there should have been a warning that this would happen, because this year they brought it…and I think they brought ALL OF IT. Of course my friends at Animerica would love to see this happen, and for me the more the merrier.

This year though it felt less comic bookie, and more film/other types of stuff. I don't care to get into the debate, because it's more stuff for me to see and appreciate. From Starwars.com trying desperately to get me to signup for Hyperspace to probably the most memorable poster I've seen yet (at KWOON's booth), and the impressive huge Gundam-like mecha at the Five Star Stories exhibition, it all makes the experience pleasing.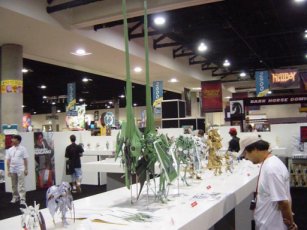 Yes, the mosquitos are huge in San Diego. And green.

After wandering around to get my goodies, meet people, and get reacquainted with some that I met last year, I found my first awe factor over at the Star Wars fan club booth where Jeremy Bulloch sat to sign silver Boba Fett figures for a huge line of fans. Next it was off to Dreamwave where they were demo-ing the Transformers Armada videogame, which is a sweet looking demo. I was assured this was only a technical demo, and it wasn't finalized yet as there was more to be done, like soundtrack, and weapon firing, and stuff like that… But I was still amazed.

Unsung Heroes made their appearance as they asked me to be in their filming of their movie while there. Unfortunately I had to tell Frisbee-boy… um, Guy, that I couldn't make it for their mockumentary.

The first panel was Dark Horse's Manga Mania, which was anything but uplifting. It was a sad thing that Chris Warner didn't show, and Tim Ervin-Gore held the panel up alone. After talking briefly about some of the licensing stuff, it started to have the feel that Dark Horse and Kodansha may be having some issues that need to be resolved.

Next on the list was the Bandai exhibition, showing awesome trailers of upcoming 2004 titles coming to U.S. shores soon like Witchhunter Robin, Ghost in the Shell: Stand Alone Complex, .hack//sign: Dusk, Yukikazu (cool fighter jet animation), and much more.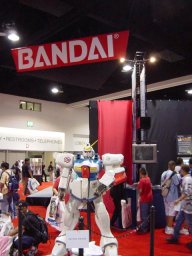 If you stay in the exhibit hall too late,
this guy has permission to kill you.

Devil's Due Studios had an extremely brief informational panel, then spent the remaining time calling out raffle prizes. Josh Blaylock said his G.I. Joe story arc would end with issue 25. Someone else would pick it up from there, though Blaylock still wants to be involved with the plots.

Issues 20 & 21 are the Snake Eyes/Storm Shadow story with #21 traditionally being a silent issue again, an homage to Marvel's #21: Silent Interlude. Mike Zeck will be doing entire issues, and the return of Serpentor is imminent.

In G.I. JOE: Frontline Zanya's story will come to focus, and then a story with Stalker as the focus, and finally the Night Creepers. Also mentioned was Voltron, and the appearance of the third long forgotten child.

Then it was off to see what Wildstorm had installed for us, with a huge panel of talent, and slides with upcoming releases. I don't recall Robotech in there, but was assured there are a bunch of titles in line. Thundercats: Hammerhand's Revenge comes in October, and get this… Thundercats vs. Superman, where the TC go to Metropolis to track Mumm-Ra's agents there.

The Life Eaters looks like a very cool book to be looking forward to, and Sleeper, among others. But then, how cool is it that Jim Lee himself handed out Victorian cookies to all that were in the audience? Still not sure what a Victorian cookie is, but it's Jim Lee. Finally on to the Lucasfilm and AtomFilms.com Star Wars Fan Film Awards. Sorry, no pictures, and no recordings, but it was a lot of fun. The big prize went to Pink 5 as it was chosen by Mr. Lucas himself, and was funny as heck. Much like at the Oscars, the actor's face was about to break into tears, and it was a great show.

But that wasn't all. We were all treated to an awesome stage show, The Entire Star Wars Trilogy in 30 minutes. It was great and funny, with a standing ovation and cheers all around.

Who was there? Jeremy Bulloch hosted. Young Boba Daniel Logan and R2D2 Kenny Baker attended. Troops writer/director Kevin Rubio presented the Pioneer Award to HARDWARE WARS, which is now 26 years old. Lucasfilm reiterated that Indy 4 is coming soon, but couldn't offer any hard dates.

As the night out on the town began, I bumped into many of the DC people and Wildstorm folk, a bunch of the Devil's Due people, and to end my evening I was talking to someone as Kevin Rubio stood next to me. I smiled and said good evening Mr. Rubio. His reply was simply "Mr. Rubio is my father." Ah, what a night.

We're just glad there were no 3 a.m. phone calls from a Tijuana jail.