Prepare For High-Flying Fur-Bearing Adventure
First Look At Rocket Raccoon #1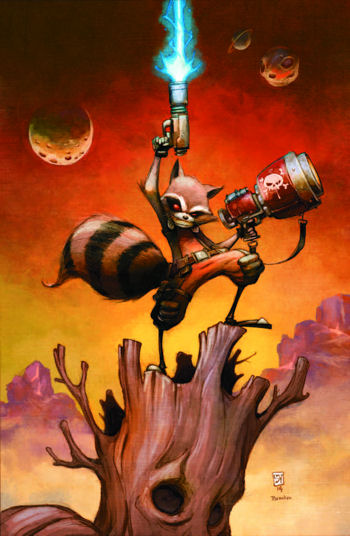 Marvel is giving us a really early look, as the interior art pages are still in black and white. But they know what we know -- this is the time of the Raccoon! And you've got to strike while the iron is hot.
Or at least while people's interest has been piqued.
Though his style is very different from the art in the regular Guardians of the Galaxy book, Skottie Young seems like a perfect choice for a Rocket solo book. I have some hope -- not strong -- that this might even be an all-ages book. But I guess from the trailer everybody knows that Rocket has too much attitude for a kids' book.
Freed from the other Guardians for a bit, we should also expect a sense of anything goes -- I re-read Rocket Raccoon's original mini-series a few months ago, and had forgotten how truly wild it is. Again, Young makes a perfect choice to bring in the unexpected in visuals.
From Marvel:
This July, blast off with the fuzziest Guardian of the Galaxy in ROCKET RACCOON #1 – an all-new ongoing series from Eisner Award winning fan-favorite Skottie Young! And you've never seen Rocket like this before!
As defenders of the cosmos go, Rocket Raccoon has faced his fair share of galactic battles. He's been a hero to the weak, a champion of the good, a protector to the innocent, and a heartthrob to many intergalactic species across the cosmos. But is he ready to be a raccoon on the run?!
Rocket's high-flying life of adventure and heroism may soon be a thing of the past when he becomes framed for something he didn't do! And the authorities aren't the only ones hot on his TAIL! (Yeah, we went there.)
"I figure that a guy like Rocket, with his attitude, has swindled his way over many planets and charmed many ladies," says writer/artist Skottie Young. "He's racked up a militia of ex-girlfriends I'm dubbing the Exterminators. They're all fed up and they've decided it's time they dish out some payback on his furry little tail."
With his pal Groot at his side, Rocket will have to blast his way out of trouble (and blast his way into some) if he wants to clear his name. Along the way he'll tussle with some of the fiercest creatures in the known galaxy! But they're about to bite off more than they can chew if they think they can go toe-to-paw against the shortest Guardian with the biggest gun!
Don't miss the start of the explosive new series as superstar creator Skottie Young kicks off an epic deep space adventure in ROCKET RACCOON #1!
ROCKET RACCOON #1
Written by SKOTTIE YOUNG
Art & Cover by SKOTTIE YOUNG
Variant Cover by DAVID PETERSEN
On-Sale This July!