For Love Of The Game
A Look at Red Eye Press
"Can I help you with that?" I asked A. David Lewis as he struggled with a big box of comics. We stood on the street corner across from the San Diego Convention Center, both of us girding ourselves for ComicCon Preview Night.
Of course, we had different agendas that night. Him to sell as many comics as he could, and me to snag as many as I could. But that didn't mean we couldn't be friendly, so as we waited for the trolley to pass, the light to turn green, and the traffic cop to tell us we could walk, I caught the paperwork Lewis had been about to drop.
Naturally, our conversation turned to comics. And it turned out, though I hadn't known it, that Lewis was one-half of a publisher, Red Eye Press, with his partner Dan Cooney. It also turns out that Lewis considers himself a comics scholar, which intrigued me.
And he's serious about it, which should come as no surprise when you realize that he quotes Proust in his own comic book writing.
"Comic books are a medium, plain and simple," he commented later. "In my opinion, it's the responsibility of academia to consider all media objectively. The time is ripe and overdue for American institutions to accept comic books with open arms and mine them for all the rich, fascinating content they can provide."
But this doesn't mean that Lewis' work is dry and stuffy. Far from it. Instead, his book, Mortal Coils is rather dark and creepy. An anthology of tales that cover fantasy, science fiction and horror, the writer promises that there's a grand design.
"As I prepared several of the initial stories, I grew increasingly intrigued by how, potentially, they could be linked together," Lewis explained. But it's not overt, and picking up any single issue would not make it obvious.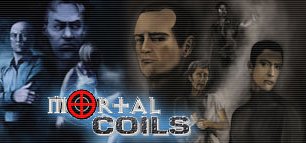 "You can either read the stories alone," Lewis continued, "or you can watch for clues and names, guessing at their connections. I didn't want this to be a gimmick…it gave me one more challenge and one more way to tell the Mortal Coils stories."
On their own, each of the stories draws the reader in to situations where things are just not quite right. Though the temptation is to call them Twilight Zone-ish, the resolutions aren't really "shock endings;" instead, they're logical but not obvious conclusions.
The art, from a variety of contributors, varies, and I'll admit I'm not a huge fan of it. But the writing makes the book worth close reading. That is what it's about, isn't it?
Lewis is actually the more recent partner in Red Eye Press. The company was actually started by Cooney a few years earlier, to self-publish his book Valentine. It's the tale of a female assassin, at this point in her arc on the run from the government. If that description sounds a bit like Alias, writer/artist Cooney shrugs it off with good humor.
"Considering Dana Valentine has been in print October of 1996, Alias is like Valentine," he says. "I don't mind the comparison. In many ways, the stories are similar but the characters are very different.
"Valentine embraces the work she does, a hired gun who kills for money, a woman who lives life on her terms."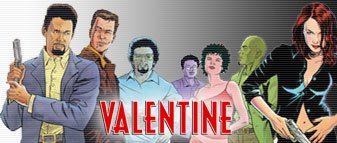 At ComicCon, Cooney's most recent issue was #9, which turns out to be a great jumping on point. Not a breezy read, it's rich in both character and action. Though there's clearly a back story, Cooney never lets Valentine's history get in the way for new readers.
Despite the superficial resemblance to Alias (or maybe because of it), the book seems ripe for translation to another medium. "I've had interests from Hollyweird, but no solid offers," Cooney nods. "I would consider it if the studios would kick down the dough. Are you listening, Hollywood people? Kick down the dough!"
With such a strong concept, and female leads seeming the trend in pop culture right now, why self-publish, and not go with a bigger company? Cooney has an easy answer.
"I like having creative control, final say and the responsibility," he offered. "Yes, at times I've thought how nice it would be that someone else handle all the work but to me, it's part of the process. I'm very proud of what I and everyone else who is a part of Red Eye Press has done."
What they're doing is some solid work, especially impressive since Red Eye Press runs from two different coasts. Lewis works out of Washington, D.C., while Cooney lives in the other center of political looniness, Sacramento, California.
"Being on opposite coasts keeps us out of each other's hair, while still representing the overall Red Eye Press enterprise across the country," said Lewis.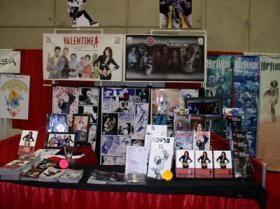 As the industry struggles (ComicCon's size notwithstanding - a lot of that space has been taken over by movies, toys, and videogames), outsiders have to wonder why anyone would fight along with it.
"People love it for a variety of reasons," Lewis explained. "For me, it's the chance to orchestrate and participate in the creative act of storytelling and then getting to share that labor with an audience. It's an electric feeling, truly, that certainly can be aided in financial recompensation, but is by no means only fulfilled that way. We get to do comics, man!"
Lewis went on, "Though I was raised purely on Marvel and DC, my years since working in small press has unveiled just how essential this venue is for even mainstream comics to stay alive. If nothing else, small press is the field in which tomorrow's mainstream superstars are grown - where they're cultivated and matured and nourished. But I also think, separate of the mainstream, the small press world keeps comics both accessible and fresh." "Not to disparage small press in the metaphor, but the Big Leagues need the Minor Leagues in local communities, enriching it with both talent and purity. For love of the game, man, for love of the game."
It's a sentiment we can completely agree with here. If you're interested in Red Eye Press' work, check out their website here. And of course, if you're going, stop by their booth at SPX in Bethesda or (I'm guessing) APE in San Francisco.