Chris Northrop and Jeff Stokely Know
The Reason For Dragons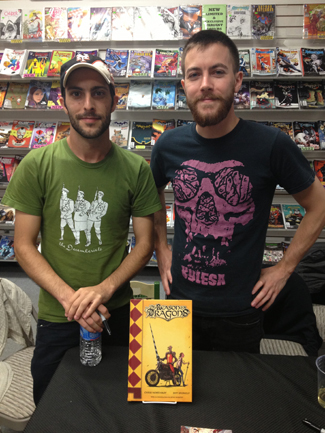 Chris Northrop and Jeff Stokely with their labor of love.
The Facebook invitation from Mike Wellman of The Comic Bug went something like this: "Launching Archia book The Reason for Dragons. Come join the fun as creators Chris Northrop and Jeff Stokely sign their new book. We might have mead."
Well, I had to point Mike in the right direction to make sure there WAS mead (he was kidding; I wasn't), and then I realized that I would actually be in the L.A. area that night and could possibly venture to Manhattan Beach to the great store Wellman runs with Jun Gueko, The Comic Bug.
It wasn't just the mead that made me glad I did. It was the discovery of the kind of store I loved -- and sure, I should have suspected would be the kind of store Mike and Jun would run.
It's a clean, well-lighted place for comic books. And action figures. And gaming. And in the back -- on Wednesday nights, local artists come to sketch and talk and collaborate and just have a great time. Then there's open mic comedy night, and screenings of old videos so you can gather among your people. If I lived in Manhattan Beach, there's no doubt it would be a second home to me.
But I wasn't just there to gape at what a cool store it is. I was there to pick up a copy of The Reason For Dragons, which Ross Richie had recommended to me the week before at Comic-Con.
The crowd to meet the creators was reasonable, and I arrived near the end of the signing schedule, so writer Chris Northrop and artist Jeff Stokely (also the artist on Boom! Studios' Six-Gun Gorilla) were able to find a moment to talk to me about their book -- which beyond a great cover, I knew next to nothing about.
Mike handed me a cup of mead, and we began delving into the work.
Of course my first question to Chris was what inspired it. He smiled and said, "My father is very different than I am, so that was the catalyst for writing this. He is not macho, but a manly, guy, and I am not. I do not fix cars. I was forced to take tae kwan do. You know what I mean? This guy, this kind of dad."
He went further into the themes of the book. "I always felt that when you're growing up and become a teenager, your father becomes a real person suddenly. He's your dad, he'll play with you when you're a kid and now..." Chris's eyes widened dramatically, "You're 15! Now we've got to be practical! You've got to fix a car now! We're going to go hunting!"
We both laughed, and I found it hard to imagine my dad on a hunting trip, but I knew the feeling. We all know the feeling.
"Me, a little child-like in my mind -- I didn't want to let go of my childhood really. So the book really deals with those themes. So we have a character who runs away into the woods; he's dared by some bullies to prove himself as a man and find out what happened to this burned out renaissance faire. He has to pull a pamphlet from the ruins to show these kids, the bigger kids."
Chris shrugged and smiled again. "It's all about bullies. It's always about bullies when you're a teenager."
In the woods, Chris' character Wendell encounters a knight in home-made armor. The knight might be crazy, but he believes a dragon destroyed the fair, not an arsonist.
"They have more in common than the kid thought," Chris explained. "They're both dreamers; they might be crazy. He ("Sir Habersham") doesn't identify with anyone, and neither does Wendell."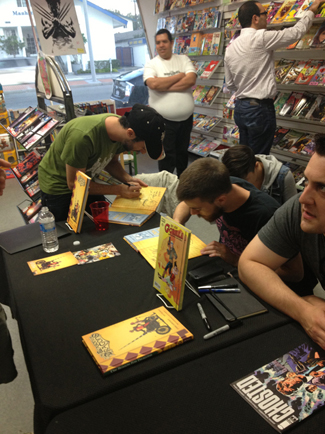 Keeping those signing hands strong...
Of course this experience brings Wendell closer to his step-father, in a really sweet but sometimes dark story about adolescence. And Chris had had the story to tell before artist Jeff Stokely came on board.
"I had pitched the idea (to Archaia) four years ago," Chris explained, "but they didn't have any room on the slate. Sometimes people don't know this, but it isn't just about whether they like it or not, it's what slots (in the production schedule) are taken up when you're introducing the idea."
The wait really paid off, though, because Chris found Jeff. "He is a fantastic artist, but he gets it. I think he really identified with the story when I gave it to him, and he's good at telling silent stuff. I can write a paragraph and Jeff will expand it into five panels and convey it as the most well-constructed sentence I could write. That's why he has a story assist credit; at the end I fought for him to put that in."
Jeff looked up from finishing a sketch for a fan and nodded. "It was extremely collaborative."
Chris enthused, "I really felt like Jeff brought a lot to it, even through us sitting and bonding and talking about our fathers, and how we grew up feeling different, and what it's like to be a comic book person. Through our conversations a lot of stuff evolved."
Jeff agreed, "The (initial) story definitely was his, but towards the end it was both of us."
The two had shopped it around to a couple of other publishers in the meantime, but Jeff insisted, "we knew Archaia would treat it better than any other company. We knew that if they let us produce the book the way we wanted to, that it would look leagues better than any other company. No other company would produce a book like this."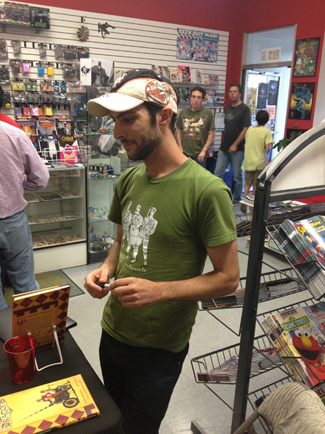 A moment of peace and well-deserved pride..
And with Boom! Studios' recent acquisition of Archaia?
Jeff was quick to praise the combined company, "they're in our corner. I can't complain." He smiled, " when they saw the art, they said this is going to be our next big book. That sounds egotistical…"
Chris jumped in, "No, no, no! They were behind this from the start. When you're with a publisher like Mike Kennedy (of Archaia), he really fought for this book, for the elements to be the way we wanted it, to be a top priority. Not that no one cared; everyone cared about it. But he really was the voice for me."
"When you have someone like that and Rebecca Taylor, our editor, working with you, it's – she really kept me going. She'd call me at night – "stay up, Chris, you can do it, I'll get you a Red Bull!"
Jeff countered, "she ordered me a pizza."
"How many publishers would do that?" Chris laughed. "But she does still owe me a case of beer."
Chris summed it up nicely -- "You want to impress your dad, and that's what this book is about, but Archia – they're our dad, they're our father figure. You want that pat on the back from your dad. Archaia is like a family, so I feel it was the perfect thing to bring to them."
Well, judge for yourselves, of course, but this does feel like a great book. You can of course head to The Comic Bug if you are near Manhattan Beach. It's at 1807 Manhattan Beach Blvd. in Manhattan Beach, pretty convenient to the freeway and yes, to the beach.
And head over there on August 21st when Mike and co-creator Rafael Navarro will launch THEIR new book, Guns A-Blazin'. I had a chance to read that after Comic-Con, and it's fun. (Full disclosure -- Rafael did illustrate a story I wrote back in Monsterverse's Bela Lugosi's Tales From The Grave.)
We of course also recommend Earth-2 Comics in Sherman Oaks and Northridge, as well as our home store, Illusive Comics & Games in Santa Clara. That's just in California.
Find your local shop and get a copy there, or order it through our helpful Amazon link. We would not say no to that.