Today, Spider-Man Gets One More Day
Amazing Spider-Man #544 hits the stores -- will you buy it?


Marvel has given me an opportunity here, to combine a review with preview art AND still give you their side of the story.

So...

We've been building up for "One More Day" for quite some time. Most of the Spider-Man stories not written by J. Michael Straczynski for the last few months have just been time-fillers, reflecting the cosmetic elements of "Back in Black," but none of the substance. It's JMS who has had the say, who has been directing Spider-Man's life (no doubt overseen by Joe Quesada), but even his "Back in Black" stories had to be drawn out.

Why? Because he had to give Joe Q time to draw "One More Day." Wisely, Marvel powers that be have realized that they can't let this one delay. They can't let this one screw up continuity in other books, and they can't continue teasing fans much longer.

So we've had months of rumor, speculation and a bit of hype. Mostly, we fear that Mary Jane will be inexplicably not long for this world. But one of the good things about this arc already appears to be that we're not settling in for a long, long time of worrying about Aunt May's coma. (As a cynical fan, I thought that was coming after last issue.)

Instead, Peter gets down to something he probably should have done a couple of months ago -- beating the snot out of Tony Stark for manipulating him into unmasking. While Peter may not be on the right side of the law right now, that won't stop him from seeking justice.

As a result, Straczynski picks up on a few stray plot threads that Civil War abruptly snipped and frayed, which means for this month, anyway, Spider-Man fans will get a lot of questions answered. He's still not dealing with that House of M/Gwen Stacy who didn't sleep with Norman Osborn thing, but you can't have everything.

Was Joe Quesada's artwork worth the wait? I'm a little divided. One of the best pin-up guys in the business, Quesada definitely put his sweat into this one. However, as a stortyelling artist, he has a tendency to distort and go cartoony as he plays around with camera angles. It's a showy performance, occasionally distracting from the straight-ahead narrative that JMS' script provides.

But others love him, so let's just say his fans will not be disappointed, nor should they be. If he can keep this all on schedule, Quesada will also be making a great statement about professionalism and keep retailers happy that, hey, they can count on Marvel's books actually coming out when they say they will.

Unless Quesada says, "...we need One. More. Month..."

From Marvel:

The most controversial storyline in Marvel history begins today, as Amazing Spider-Man #544 marks the first chapter of One More Day! As Aunt May lies in a coma, and Peter remains a fugitive from justice, the wall-crawler will face the hardest decision of his life. How far do you go to save the ones you love? What's the cost of doing the right thing? Written by the acclaimed J. Michael Straczynski, who redefined the wall-crawler for a new generation and penciled by Joe Quesada, one of the industry's most popular artists and Marvel's Editor-In-Chief, this storyline will tie together story threads seeded throughout JMS' six year tenure!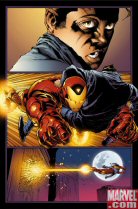 When this four-part story concludes, nothing will ever be the same for Peter Parker, as his decision affects the past, present and future of everyone's favorite wall crawler! Each extra-sized issue of One More Day not only features two must-have covers—one by Quesada himself and another by acclaimed artist Marko Djurdjevic—but is also packed with Director's Cut style extras!
With great power comes great responsibility…and an even greater burden. You can't afford to miss this emotional tour de force that will challenge Peter Parker at his very core and leave readers breathless, beginning in Amazing Spider-Man #544! And it's in stores NOW!
AMAZING SPIDER-MAN #544 (JUL072139)
Written by J. MICHAEL STRACZYNSKI
Pencils & 50/50 Cover by JOE QUESADA
50/50 Cover by MARKO DJURDJEVIC
"One More Day," Part 1 of 4
Rated A …$3.99
On-Sale—NOW!
FRIENDLY NEIGHBORHOOD SPIDER-MAN #24 (JUL072140)
Written by J. MICHAEL STRACZYNSKI
Pencils & 50/50 Cover by JOE QUESADA
50/50 Cover by MARKO DJURDJEVIC
"One More Day," Part 2 of 4
Rated A …$3.99
FOC—9/20/07, On-Sale—10/10/07