Marvel: Miracleman Returns --
This Time We Mean It!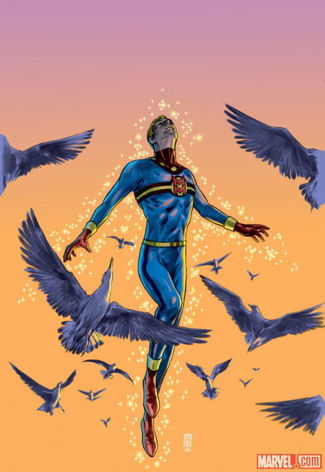 If you listened to this year's CarrCast, you know that Marvel teased retailers at San Diego with the an image of the Miracleman logo and a promise that no, they hadn't forgotten about it.
Well, in today's "Cup o' Joe" Panel at the New York Comic Convention, Chief Creative Officer Joe Quesada unveiled a video which proved the point, and finally, finally announced the return of Miracleman for real and for sure.
The video featured writer Neil Gaiman referring to it as his favourite piece of writing as a young man, regretting that it never got to be finished. But Editor-in-Chief Axel Alonso promised, "the wait is over. Marvel will finally be bringing these timeless, ground-breaking stories to a whole new generation of reader."
For those not quite familiar, the dark (and now often imitated) Marvelman began life as a series in the U.K. comics magazine Warrior, written by Alan Moore and rethinking original creator Mick Anglo's warping of Captain Marvel when Fawcett stopped comics publication in the early '50s.
Reborn now as a middle-aged man grappling with the possibility that his childhood dreams might have been horrifically more real than he thought, Marvelman was brought to the U.S. by now-defunct publisher Eclipse Comics, who had to change the title to Miracleman in order not to upset Marvel Comics.
After Moore finished his original run, he anointed the young Gaiman his successor. That follow-up arc with artist Mark Buckingham came to a screeching halt with Eclipse's bankruptcy.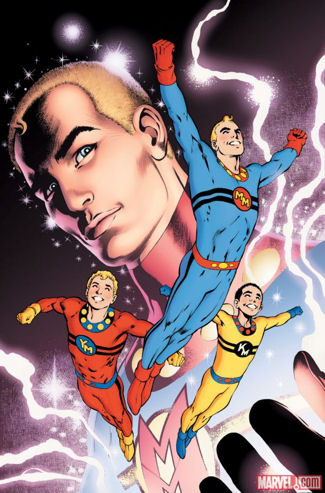 Much legal wrangling later, involving Todd McFarlane, original publisher Dez Skinn, the revelation that maybe Mick Anglo had never been properly paid, etc., Marvel Comics bought the rights and announced three years ago that they would revive the character. They went so far as to release a collection of the best of the 1950's stories, but that wasn't what fans wanted -- instead, they want the chance to read the epic in its entirety, and with Gaiman and Buckingham's conclusion.
In an interview with Marvel.com, Gaiman reflected on the loss. A full issue had been written and drawn and has never been seen -- until now.
Starting in January, Marvel will reprint the series from the beginning, leaving it under the title Miracleman, as over the years, that's been the name people associate with the feature. Not only will they reprint it -- but they will finish it! Gaiman and Buckinham will see their unpublished work brought to light, and then... they will go beyond!
Moore was not mentioned in the presentation, and is unlikely to participate. Years ago he fully bequeathed all his rights to Gaiman and, in characteristic Moore fashion, is over it. No word yet if he will receive credit in the reprints.
Each issue will feature additional content, largely new art and interviews with the creators. New covers are being drawn for the series by fan favorite artists.
And the slide show revealed that this is indeed real this time around. There's a "kiddie Miracleman" cover. Despite the book being absolutely NOT kiddie safe, ironically that means Marvel is serious.