Marvel Welcomes You To
Where Monsters Dwell...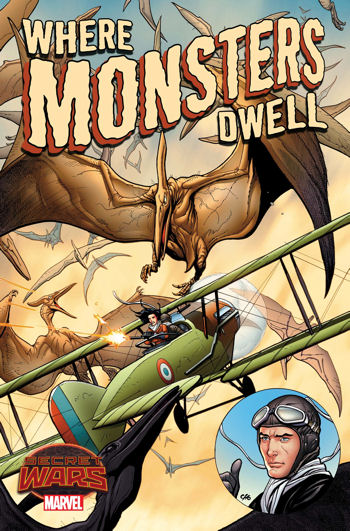 As a Secret Wars tie-in, this highlights one of the strengths of this crazy crossover concept. Marvel can put the Secret Wars label on a book about a WWI pilot in a land of dinosaurs and we buy it because it's PART OF A LARGER EVENT!
But the truth is, we should buy it because in and of itself, it's a cool concept (albeit as old as World War I itself) done by top-notch creators (hopefully) having fun.
The prospects of Battleworld allow Marvel a chance to take a few risks like this, steering away from superheroes and into other genres while still having the superhero veneer. We may get something truly strange and excellent out of Weirdworld...
From Marvel:
This May, legendary comic scribe Garth Ennis returns to Marvel Comics proper, and he's bringing his frequent collaborator Russ Braun along for the Secret Wars ride! Today, Marvel is pleased to announce WHERE MONSTERS DWELL #1 – a brand new 5-issue limited series launching during Secret Wars!
"In a book like this, the sky is the limit," exclaims Senior Editor Nick Lowe. "But it's going to be crazy! One of the coolest things about Secret Wars is the door it opens to stories of all kinds. WHERE MONSTERS DWELL fits square in the middle of the Secret Wars pocket, but it approaches at a very Ennis-ian angle."
Dogfights! Dinosaurs! Dames! Danger! This book has it all! Enter the Valley of Flame, Battleworld's home to the deadliest creatures prehistory has to offer. Stranded amidst its Pterodactyl-filled skies? Karl Kaufman, the high-flying aerial ace known as the Phantom Eagle!
Expanding on working with Ennis, Lowe added, "Garth is the best all-around writer in comics, period. His stories are perfectly paced, his characters are three-dimensional, horrifying, hilarious and come alive on the page and he crushes you with cliffhangers better than anyone."
Marooned in the Valley of Flame alongside socialite Clementine Franklin-Cox, he'll face down dinosaurs, cannibals, and the worst that Battleworld has to offer from inside the cockpit of his biplane. Fighter planes and prehistoric creatures collide this May in a raucous tale of the Phantom Eagle as Garth Ennis and Russ Braun dare you to enter WHERE MONSTERS DWELL!
WHERE MONSTERS DWELL #1 (of 5)
Written by GARTH ENNIS
Art by RUSS BRAUN
Cover by FRANK CHO
On Sale in May!
Talk back to us via email, Facebook, or Twitter @FanboyPlanet!