Marvel's Free Comic Book Day Offerings
Secret Wars #0 and... Attack on Avengers!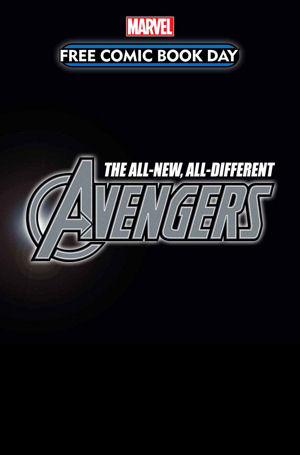 May 2, 2015. That's this year's Free Comic Book Day. Mark it down. Because you want to be there.
You've got to hand it to Marvel's marketing team. Or maybe to Joe Quesada himself -- an absolutely master showman. Everything is about to change in the Marvel Universe, and we get the image you see to the right.
Because of COURSE they can't show us who the All-New All-Different Avengers are yet. And right now, I'm loving them for it. I want to know, but I don't want to know. I want to truly be excited and surprised, and they're delivering.
I'll get more clues in the other book being offered -- Secret Wars #0, with a simply beautiful cover you can see below. And the news that they're going to translate and reprint "Attack on Avengers," the Avengers/Attack On Titan crossover and just GIVE IT AWAY!? Brilliant.
Your move, every other publisher..
From Marvel:
The biggest heroes, the biggest creators and the biggest stories in comics today are coming to FREE COMIC BOOK DAY this year!
Today, Marvel is proud to officially unveil its two stellar, can't-miss Free Comic Book Day offerings for 2015! This May, prepare yourself for the kickoff of the biggest comic event in Marvel history, and a special preview of Marvel's future in Secret Wars #0 and All-New, All-Different Avengers FCBD!
First, Secret Wars #0 brings you a prologue to the most important comic series of 2015! From the all-star creative team of Jonathan Hickman and Paul Renaud, get caught up with the perfect primer for the mega-event of the year, just in time for Secret Wars #1 to hit comic shops the very next Wednesday!
As a bonus, Secret Wars #0 will also contain a special presentation of "Attack on Avengers", the sought after 8-page Avengers and Attack on Titan crossover, never-before-released in the United States by Attack on Titan creator Hajime Isayama with art by Gerardo Sandoval!
Then, get ready for a look into the world that's coming with All-New, All-Different Avengers FCBD! It's your first taste of the all-new Marvel Universe as a blockbuster top secret Avengers creative team sets out on a new adventure that will have fans begging for more! Who will be Earth's Mightiest Heroes when the dust settles from SECRET WARS? Find out here! This special issue also includes a brand new bonus story by blockbuster writer Charles Soule that previews one of the biggest new titles of 2015 – Uncanny Inhumans!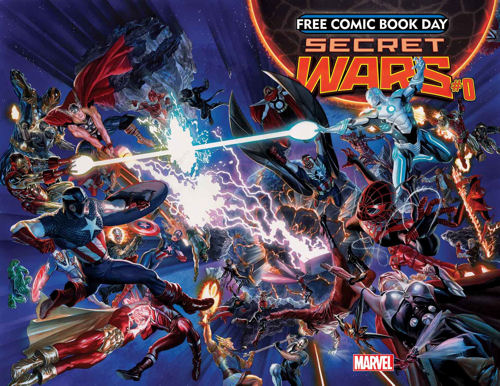 "Free Comic Book Day is a day to showcase the amazing world of comic books we all live and play in," says Marvel SVP Sales & Marketing David Gabriel. "What a spectacular opportunity to reach new fans as FCBD coincides with the release of Marvel's Avengers: Age of Ultron. There's no better time for fans to jump in to the Marvel comics universe with new titles featuring the Avengers, the Inhumans and Secret Wars. Support your local retailers and head to a comic shop that weekend for some stellar offerings from all-star creators. We can't wait for fans to get their hands on them."
This May, the opening salvo of Secret Wars is fired and the Avengers of tomorrow take shape. No fan can afford to miss this year's FREE COMIC BOOK DAY – May 2nd at participating comic shops nationwide!
SECRET WARS #0
Written by JONATHAN HICKMAN & HAJIME ISAYAMA
Art by PAUL RENAUD & GERARDO SANDOVAL
Cover by ALEX ROSS
Coming Free Comic Book Day!
ALL-NEW, ALL-DIFFERENT AVENGERS FCBD
Written by TOP SECRET & CHARLES SOULE
Art & Cover by TOP SECRET
Coming Free Comic Book Day!