Sure He's Just A Figment... Aren't They All?
Marvel And Disney Kingdoms Present Newest Title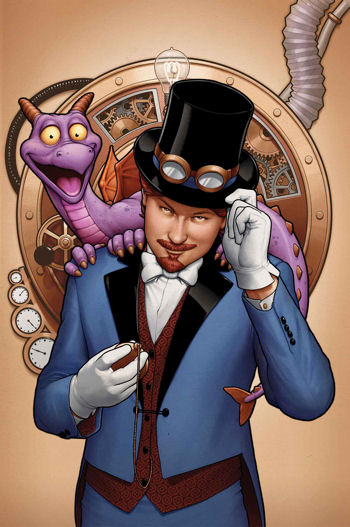 Never having been to Disney World and/or EPCOT, I don't have the deep affection for Figment that many, many Disney fans do. But something like this? It's a chance to somehow convince the rest of us. Plus, no doubt it will be a good kids' book, and the more Marvel does this, the happier I will be -- though I do wish they'd find a way to get the price point back down to $2.99.
From Marvel:
This summer, journey into the exciting depths of your own imagination in FIGMENT #1, the new Disney Kingdoms series created by the unique collaboration between Marvel and Walt Disney Imagineering.
This five-issue series, created by rising star writer Jim Zub (Skullkickers), fan-favorite artist Filipe Andrade (Captain Marvel) and blockbuster cover artist John Tyler Christopher, weaves an all-new steampunk fantasy adventure that reveals the never-before-told origin of the inventor known as Dreamfinder and his trusty dragon companion!
A mainstay of Walt Disney World's Epcot® Theme Park, Figment and the enigmatic inventor Dreamfinder have captivated visitors of EPCOT's Journey Into Imagination attraction for years and Marvel and Disney are proud to bring their exciting story to the masses this June!
"Can you imagine the never-before-revealed origin of one of Disney's most creative characters? Can you picture a Marvel spin on the Epcot® Theme Park's mind-expanding attraction, Journey Into Imagination? Have you ever wondered how the inventor known as Dreamfinder created a certain inquisitive purple dragon?" says editor Bill Rosemann. "Be prepared for all of these answers--not to mention amazing creatures, magical lands, and cool clockwork contraptions--in FIGMENT!"
"Expanding the story of Figment has been intimidating, but I'm genuinely enjoying it," says writer Jim Zub in an interview with Marvel.com. "I want to do right by Disney fans and new readers alike, creating an entertaining story and that comes from working with engaging characters. Digging a bit deeper into Figment and Dreamfinder has been a fun challenge. In so many ways this story really is a 'Journey Into Imagination', in both word and deed."
This summer, all it takes is one little spark to let your imagination take flight. Don't miss the highly anticipated debut of the next title in the Disney Kingdoms family when FIGMENT hits comic shops this June!
FIGMENT #1 (OF 5)
Written by Jim Zub
Penciled by Filipe Andrade
Cover by John Tyler Christopher
Elements based on Figment © Disney
32 PGS./All Ages …$3.99