Every Story Has An Ending, Even Fables...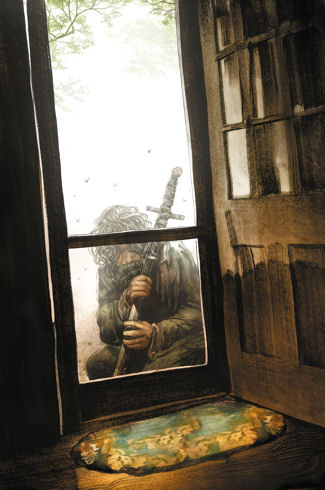 Fables creator Bill Willingham has announced this morning that he has begun "...the process of bringing our sweeping story to a close."
That sweeping story, of course, is that of the citizens of Fabletown, refugees from a war that raged across all the realms of stories and imagination, and now living in New York. Through its run, Willingham has woven just about every myth and legend you can think of, turning them all on their head and even making you root for an heroic winged monkey of Oz.
The critically acclaimed and much beloved Vertigo series will end sometime next year at issue #150, which Willingham promises will be over-sized. (Issue #134 went on sale last week.)
In addition, the current Fables companion title, Fairest, featuring stories of the fairy tale princesses, will end sometime before Fables.
In addition to ending Fables, Willingham announced he will attempt semi-retirement, averring that what that really means is still working every day, "but being a bit more selective" in his projects.
DC will have further information later today, but artist Mark Buckingham, who has drawn the majority of the book's run, released a statement through Willingham's website:
"I respect Bill's decision and am looking forward to working with him on the book's epic final year, leading to the series' grand finale."
In January of 2014, Willingham will launch a new series from Dynamite, Legenderry, but Fables looks to be the major work of his career. In addition to the regular series, the title has spawned two spin-off series, Jack of Fables and Fairest, a series of mini-series, a separate graphic novel, a separate prose novel, and is currently in development as a feature film. Just two weeks ago Telltale Games launched the first episode of its videogame, The Wolf Among Us, focusing on the fan-favorite character Bigby Wolf, who ends up as Sheriff of Fabletown.
We've certainly come this far and look forward to where it all ends up. It's one of those works so compelling, sweeping and yet personal, that it feels absolutely right that Willingham bring it to a close his way.