Deadpool #1
writers: Brian Posehn
and Gerry Dugan
artist: Tony Moore

One of the strangest characters Marvel has is the guy they call the Merc with a Mouth. Most of the time he goes by the name "Deadpool," a super-powered assassin who gained Wolverine's healing factor, but not perfectly. Depending on which artist draws him, a side-effect of his healing power could be a hideous rash, or in the case of new artist Tony Moore, skin that grows at a different rate than the rest of his muscles and skeleton.

Oh, and most of the time, he's funny. It's no wonder that actor Ryan Reynolds still wants to play him even after a disastrous appearance in X-Men Origins: Wolverine. So you'd need a comedian to write his adventures, right? Up until now, that hasn't occurred to anyone.

Brian Posehn has stepped up to the task. A long-time fan (one of his albums is titled "Nerd Rage"), Posehn teams with Gerry Dugan in the latest Marvel NOW effort, the relaunched Deadpool #1. Wisely, the two writers have chosen to focus on a bizarre plot rather than make the book just wall to wall jokes. Deadpool is still funny; it's just more situational humor than throwing out a string of one-liners.

A rogue S.H.I.E.L.D. necromancer casts a spell that brings our 39 dead presidents back to life. (The 5 still living will probably factor in later.) These executive zombies plan to wreak havoc on the populace, and after Captain America gets bad press for dispatching Harry Truman, S.H.I.E.L.D. agents realize they need someone who will just do the job and not attract attention.

Enter Deadpool, or rather, watch him make his entrance by exiting the belly of a giant lizard monster rampaging in Manhattan. Teamed with Thor (though the Thunder God denies it), we've just caught the tail end of Deadpool's last adventure, which barely ends before he gets attacked by the undead FDR. And hilarious hijinks ensue, or at least mildly amusing, ending with Deadpool being exactly who S.H.I.E.L.D. needs. Of course.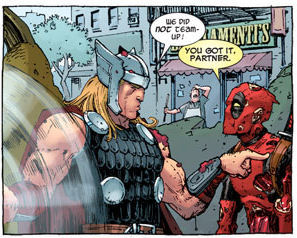 But it's all extremely fun, in a slightly disgusting way. Drawn by Moore, who co-created The Walking Dead, the art straddles a line between traditional superhero action and a more cartoony feel. Cut loose from the realism of his earlier zombie book, Moore gets more experimental with his layouts, at times reminiscent of the late great John Severin.
Yet compared to most of Deadpool's solo adventures, the book feels restrained, in that Deadpool never breaks the fourth wall and lets the reader know he's in on the joke. That may be because this book has also been enhanced by "Marvel AR" — aka "Augmented Reading." With this, an app on your smart phone or iPad will bring specially marked panels to life.
In Marvel's earlier efforts, these panels tended toward a quick look at the process of drawing a panel, but here Marvel goes a little experimental. One panel activates a retelling of Deadpool's origin, narrated by the Merc himself. One brings up a quick video of Posehn talking about the book, and one — well, Duggan just goes a little crazy, and it's fun.
Call this an unexpected pick of the week. The character here is very different from his cinematic incarnation (so far), but I guarantee you he will also prove a lot more enjoyable. Check out Deadpool #1 at your local comics shop, and tell them Fanboy Planet sent you.
Hey, write to us and let us know what you think!