First Look At Deadly Hands of Kung-Fu #1
THIS Should Be Marvel's "Bond" Film...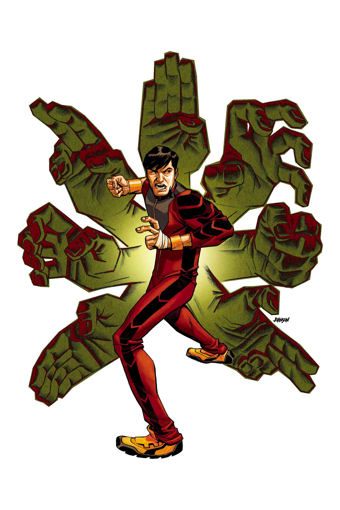 No real super-powers, just finely honed skills -- skills enough to kill a man with just his thumb. Deeply entangled in government espionage, often against his own will. Father issues big enough to choke a herd of Clydesdales. Let's face it -- Shang-Chi, Master of Kung-Fu would make a terrific movie, perhaps even enfolded into the rest of the Cinematic Universe by making the real Mandarin be his father. That would be close enough to Fu Manchu without having to borrow a public domain character, and Marvel could put there own spin on it. Which, of course, they would.
And no, as exciting as the Netflix deal is, that's not where Shang-Chi should go. Marvel should give him a big screen release, make it like a 60's Bond film... we can dream.
For now, we shall be happy to see where this book goes...
From Marvel...
This May, the Master of Kung-Fu returns for an all-new limited series full of murder, mystery and martial arts in DEADLY HANDS OF KUNG-FU #1 – from the creative team of Mike Benson (Deadpool Pulp) and Tan Eng Huat (X-Men Legacy)!
A highly trained MI-6 agent has been murdered in cold blood. One with deep, personal ties to Shang-Chi's past. As he journeys to England to pay his respects, the Marvel Universe's most impressive hand-to-hand combatant will learn that not all is as it seems. And if he's not careful –he'll be next!
Familiar faces and new enemies lie around every twist and turn, as Shang-Chi makes his lone stand against the dangerous un known. High-octane espionage and bone-crunching kung-fu collide this May in DEADLY HANDS OF KUNG FU #1!
DEADLY HANDS OF KUNG-FU #1 (of 4) (MAR140663)
Written by MIKE BENSON
Art by TAN ENG HUAT
Cover by DAVE JOHNSON
FOC – 04/21/14, On-Sale – 05/14/14