First Look At The Black Hood #1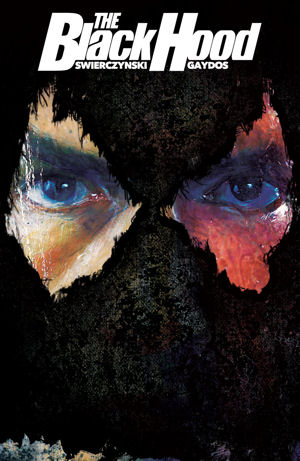 My first encounter with The Black Hood was in a digest I picked up at the Rhonda Valley Rexall. It was Archie Superhero Digest #2 (I have never in my life seen #1, if it ever existed).
The first story in that volume was of a motorcycle riding cool guy wearing a black mask, and in hindsight, it must have been reprinted from an earlier incarnation of the MLJ superhero line. What I remember was being exposed to the art of Gray Morrow, and that the story hinted that this guy was a descendant of the Lone Ranger.
That one two punch gave the Black Hood a special place in my heart, and when DC tried reviving it a couple of decades ago with Impact! Comics, I'll admit it was cool, but it wasn't really the Black Hood.
This time around, it looks about right, though admittedly it's updated and the character's motivation looks like it might have changed a bit. But Michael Gaydos is an artist who can match Morrow -- and if the publishing house of Archie wanted to make a bold statement about their new line of "superhero" comics, this was a pretty good way to do it.
From Dark Circle Comics:
Dark Circle Comics is proud to reveal the first interior pages from THE BLACK HOOD #1 and announce that the first issue will be fully returnable for comic book retailers that order 5 or more copies.

Best selling crime novelist Duane Swierczynski and noir master Michael Gaydos will be exploring the dark and dangerous corners of both Philadelphia and the mind of Officer Gregory Hettinger, a hero cop whose brush with death takes him down a path that he could never have envisioned. THE BLACK HOOD is an intense look at a man whose struggles with anger, addiction, and self-destructive behavior redefine his position and outlook on life and what that means for the people of his city.