DC Celebrates Batman's 75th And Counting:
Announcing Batman Eternal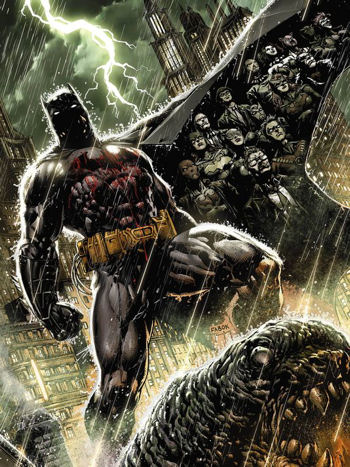 Yes, Batman's cape just may absorb souls....
What do you get the Batman who has everything? For the Dark Knight's 75th birthday, DC is giving him a weekly title (to go with the four or so other books he stars in), Batman Eternal, launching in the Spring of 2015. In addition, the publisher will celebrate the 75th Anniversary of Detective Comics #27 with a 104-page special in January, featuring stories by writers Paul Dini, Brad Meltzer, Gregg Hurwitz and Peter Tomasi and illustrators Neal Adams, Dustin Nguyen and Francesco Francavilla -- and a two-page spread by Frank Miller (The Dark Knight Returns).
USA Today broke the story this morning, interviewing current Batman writer Scott Snyder, who heads the team of rotating writers on Batman Eternal and will contribute a story to Detective Comics #27 with artist Sean Murphy. The two currently collaborate on the Vertigo series The Wake.
Batman Eternal will poke around in the unseen corners of Gotham City's life and citizenry, chronicled by James Tynion IV (Talon), John Layman (Detective Comics, Chew), Ray Fawkes (Justice League Dark) and Tim Seeley (Hack/Slash, Revival) "You'll see some humongous newsworthy stuff in it, I promise," says Snyder in the USA Today interview.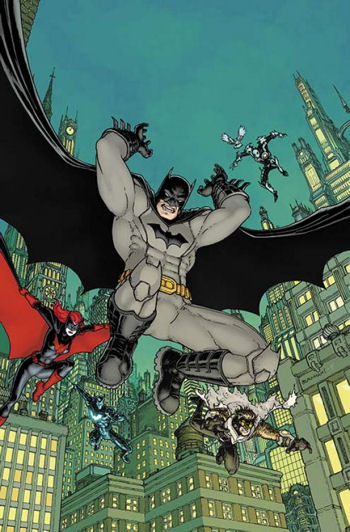 Chris Burnham's cover to Detective Comics #27
Only one artist has been announced for Batman Eternal, Glenn Fabok, who will co-write the first arc with Snyder. Currently Fabok collaborates with Layman on Detective Comics, and the January issue of that title will launch their last arc, "Gothtopia." In the Spring, Francis Manapul and Brian Buccalato will take over Detective.
Snyder promises each writer will bring something very different and exciting. Among the five of them, he enthuses, "we're gonna give you the biggest, craziest and most fun stuff we've done on the book and in the world of Gotham."
Considering this is the man who ripped the face off the Joker, that's a tall order. But considering how excellent his run with Greg Capullo has been, we have to believe him.
Want to pick up these books? We recommend Earth-2 Comics in Sherman Oaks and Northridge and Illusive Comics & Games in Santa Clara (our home turf). Support your local comic book store! But if you cannot get to one, use our handy dandy Amazon links.