New Direction For Batgirl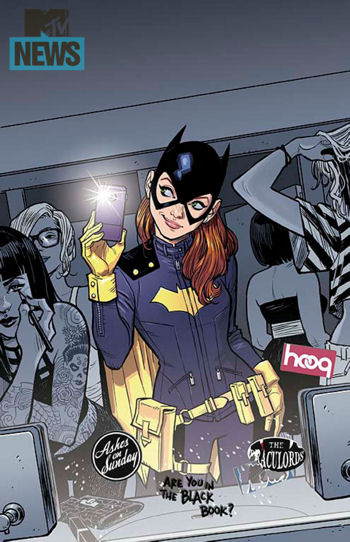 UPDATE: Gail Simone has tweeted that she left the book "over creative differences," but that she loves what the new creative team is doing. Apparently she had clashes with an editor who has also since resigned. New editor Mark Doyle is pursuing the direction Simone herself wanted to pursue. Simone urges fans to support the book.
Barbara Gordon is going to graduate school. With a new direction in her life, she gets a new creative team, a new uniform, and a new take on her adventures as Batgirl, starting in October with Batgirl #35..
Cameron Stewart and Brenden Fletcher will co-write with art by alternating between Stewart and Babs Tarr, promising a lighter (and not just because she's in daylight) tone than the well-regarded run of Gail Simone, who steps down as of issue #34.
(This time, we hope it's a mutual decision between DC and Simone. Early on in the Batgirl New 52 relaunch, she was relieved of writing duties, but after fan outrage, Simone was re-hired so fast the book didn't even miss a beat.)
The two artists have redesigned Batgirl's costume as well, making it less form-fitting, more practical, and honestly, a little more stylish.
"It's something she is able to make herself," Stewart told MTV, "shopping at the various boutique and vintage stores in Burnside (the Gotham City borough she will now live in)."
Tarr added, "I am excited to bring some flirt, fun, and fashion to the title!"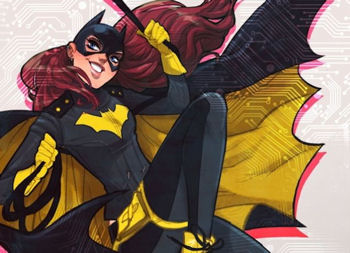 Gone is the spandex, replaced by a leather jacket. Her cape and gloves snap on, and she's wearing yellow Doc Martens.
Maybe this is the approach that will bring in new readers. No slight on Simone's work, which has been well regarded by fans and critics alike, but it may not have been an approach that brought in the people that weren't already reading Batgirl or Birds of Prey.
Since the original stated intent of "The New 52" was to appeal to people who weren't comics readers, it's nice to see DC support an approach meant to be light-hearted and even, dare we say, a bit frothy.
It does look fun, and it's also cool to see DC give a break to a new artist.
DC's solicit is below:
BATGIRL #35
Written by CAMERON STEWART and BRENDEN FLETCHER
Art by BABS TARR
Cover by CAMERON STEWART
MONSTERS Variant cover by KEVIN NOWLAN
On sale OCTOBER 8 • 32 pg, FC, $2.99 US • RATED T
Barbara Gordon is no stranger to dusting herself off when disaster strikes… so when a fire destroys everything she owned, she spots the opportunity for a new lease on life — and seizes it! Following the rest of Gotham's young adults to the hip border district of Burnside, Barbara sets about building an all-new Batgirl… and discovers all-new threats preying on her peers! It's a re-invention of Batgirl from the boots up, by the incredible creative team of Cameron Stewart (BATMAN INC.), Brenden Fletcher (WEDNESDAY COMICS), and rising star artist Babs Tarr!